What is Ozempic Microdosing?
Ozempic weight loss medication has become pivotal for those seeking weight loss solutions. This medication, primarily prescribed for type 2 diabetes, has gained recognition for its multifaceted applications, particularly emphasising its capacity to facilitate weight loss. The exact dosage of Ozempic is crucial for this medication to be successful.
But what is microdosing, and how can it help your clients?
This article explores what microdosing and weight loss with Ozempic means and, in particular, focuses on counting clicks with an Ozempic pen to gain the correct dose for the user.
What Is Microdosing When Using Ozempic?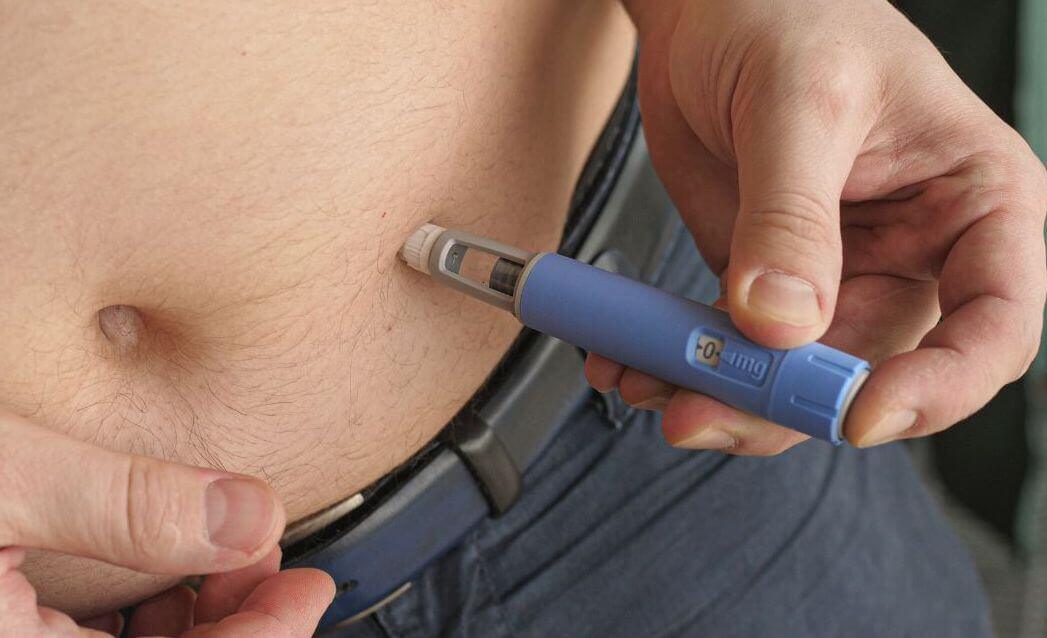 Microdosing with Ozempic is a tailored approach to weight management. In essence, microdosing alters Ozempic's dosage, customised to meet the unique needs of individual patients. This strategy recognises that not all patients respond the same to standard dosing, and personalisation is often required for optimal results.
Whether your client has an Ozempic 0.25mg pen, an Ozempic 0.5mg pen or an Ozempic 1mg pen, they should use the same number of clicks for a dose. For example, 15 clicks provide approximately 0.2mg for all three pens.
Relevance in Personalised Treatment
Weight loss through microdosing is paramount in personalised treatment plans, ensuring patients receive the most effective and well-tolerated dosage of Ozempic. By altering the medication to match an individual's requirements, practitioners can enhance treatment outcomes and patient adherence.
Potential Benefits
The advantages of microdosing are multifaceted. Primarily, it minimises side effects commonly associated with Ozempic use, such as gastrointestinal discomfort. Moreover, it allows for a gradual adaptation to the medication, reducing the risk of adverse reactions while maintaining efficacy.
Suitable Scenarios and Patients
Microdosing is particularly helpful for patients who exhibit heightened sensitivity to Ozempic's standard dosages or have experienced intolerable side effects. It is also an invaluable strategy for those beginning with the medication so they can become accustomed to the treatment.
Healthcare Practitioner Involvement
A qualified healthcare practitioner should oversee the implementation of microdosing. They possess the expertise to evaluate individual patient profiles, discern the need for microdosing, and guide the process to ensure safety and efficacy. This collaboration is crucial for achieving optimal results.
Why Would you Need to Count Clicks in your Ozempic Pen?
Counting clicks in an Ozempic pen has various medical and cost-efficient benefits.
Tolerance and Individualised Treatment
Some clients may find it difficult to tolerate the recommended dose increments, such as transitioning from 0.25mg to 0.5mg. Microdosing, often advised by medical professionals, allows for more gradual dose adjustments, such as 0.35mg, tailored to an individual's unique tolerability.
Cost-Efficiency
Weight loss injections, including Ozempic, can be expensive. Microdosing offers a practical solution to mitigate costs. Clients can extend their pens' lifespan by utilising smaller, precise increments, reducing their treatment's financial impact.
Supply Constraints
In specific scenarios, clients may face supply issues with their prescribed weight loss medication and need to reduce their dose. Microdosing for weight loss provides a practical means to make the available medication last longer without compromising the benefits.
Incorporating click counting into Ozempic microdosing helps practitioners and clients to tailor treatment precisely to individual requirements, optimise tolerability, economise resources, and adapt to dynamic treatment circumstances. This method ensures that clients receive the benefits while maintaining cost-efficiency and adherence to medical guidance.
How do you Count Clicks in an Ozempic Pen?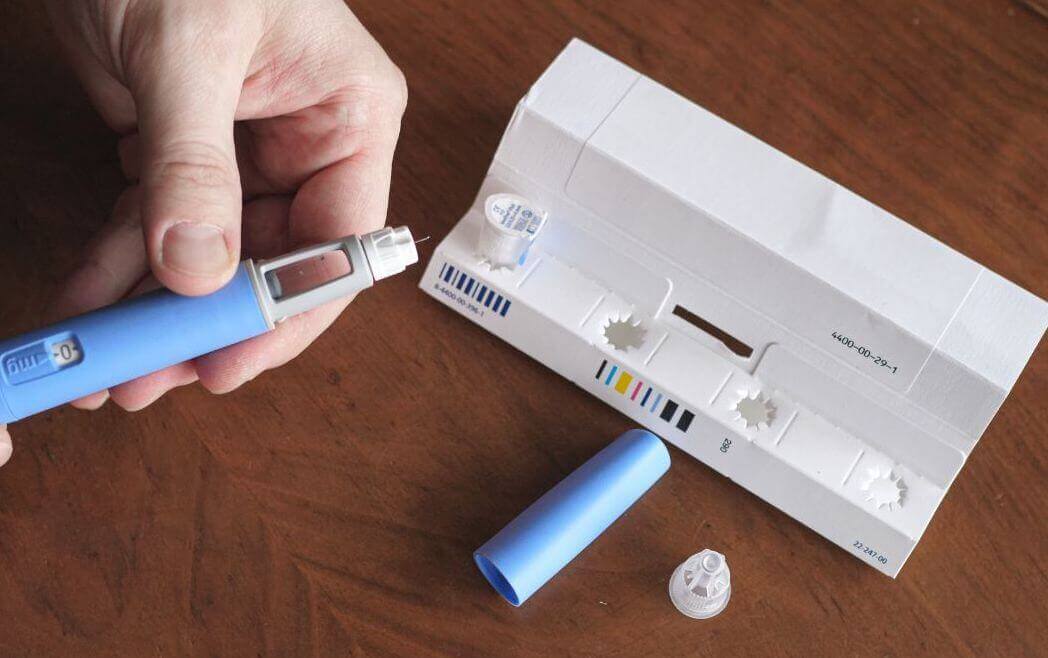 Accurate click counting within an Ozempic pen is fundamental when implementing the microdosing strategy. Consistency and precision in this process ensure patients receive the prescribed dose effectively and safely. Here's a step-by-step guide to click counting:
1. Prepare the Pen
Begin by attaching the needle to the Ozempic pen by securely screwing it on. Ensure it is properly affixed to avoid any leakage or inaccuracies during the dosing process.
2. Remove Caps
Take off both the first and second caps from the pen. This step exposes where a client can count the clicks and adjust the dose.
3. Count Clicks
Use the provided click charts as a reference to determine the number of clicks needed for the prescribed microdose. Rotate the end of the pen to click the appropriate amount. Pay close attention to each click and count them.
4. Mark Your Dose
An effective tip for maintaining consistency is to mark the clicker with a pen or marker at the exact point representing the prescribed dose. This simple technique ensures your client can quickly locate the dose for future administrations, reducing the risk of dosage errors.
5. Administer the Medication
After accurately counting and marking the dose, the client should inject the weight loss medication subcutaneously as instructed by their healthcare provider. Ensure the needle is inserted correctly and that patients follow the recommended technique for injection.
By following these steps, patients can precisely count clicks to gain the effects of Ozempic and promote safety and consistency during their weight loss treatment.
Ozempic Click Chart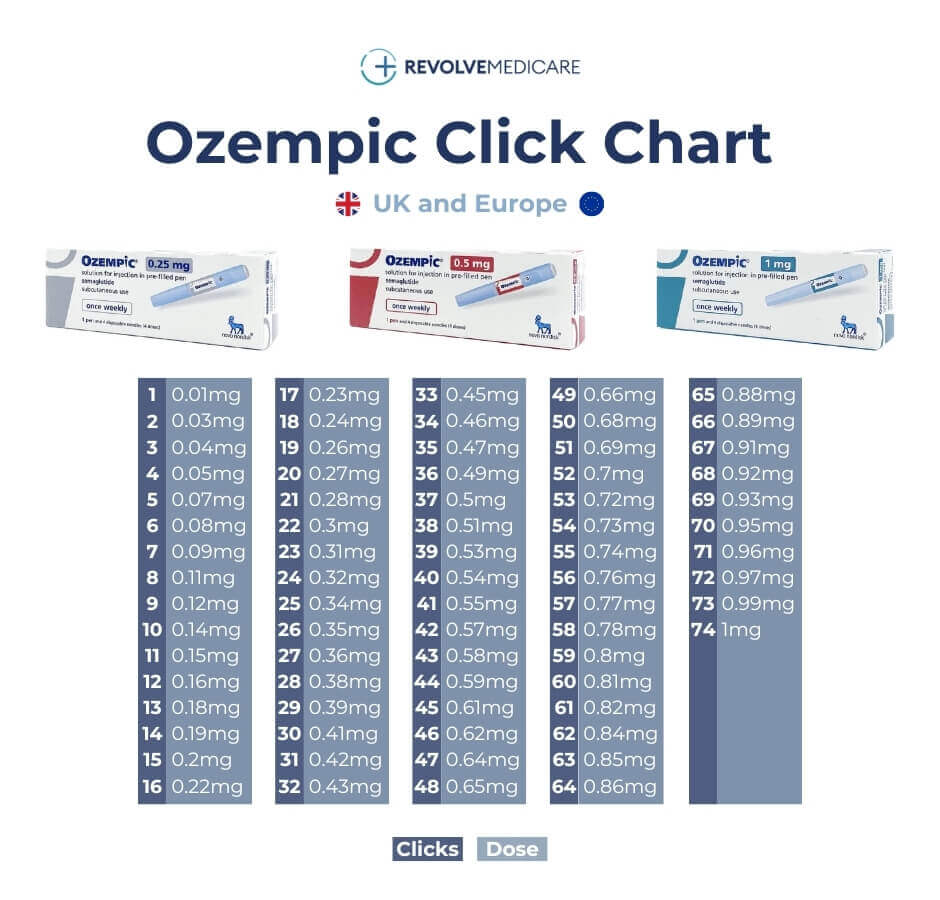 Ozempic microdosing offers personalised treatment to clients seeking weight loss solutions. By counting clicks precisely and adhering to the recommended practices, healthcare professionals and clients can optimise treatment outcomes while minimising potential side effects.
For further information, we have compiled our Ozempic weight loss guide to answer your remaining questions. Take a look and see how Revolve Medicare can use Ozempic to help your clients today.
FAQs
How many clicks are in a 1mg Ozempic pen?
In a 1mg Ozempic pen, there are approximately 74 clicks. You can use this number and the Click Charts to establish how many clicks your patient needs for their specific dosage.
How many clicks for 0.25mg in an Ozempic pen?
In a 0.25mg, 0.5mg or 1mg Ozempic pen, 18 clicks provide approximately 0.24mg of the medication. 19 clicks will administer about 0.26mg.
Ozempic pens containing other doses may require a separate amount of clicks.
A medical professional will instruct their client on how many clicks they need.
Can you microdose using Ozempic?
Clients can microdose using Ozempic, which can help if they suffer from adverse effects of this medication and the side effects are not improving. Microdosing enables the side effects to lessen whilst the client continues to use the treatment.
Patients should follow the instructions of their medical professional when using this treatment method.
How can you save money whilst on Ozempic?
Ozempic can be expensive as a weight loss medication, but microdosing can help clients save money while using this treatment. The Ozempic pen can last longer by administering lower doses, so clients can wait longer before purchasing more of this medication.
How many clicks is 0.5mg on Ozempic?
If your client has a 0.5mg or 1mg Ozempic pen, 37 clicks administer approximately 0.5mg. However, other pens may require a different number of clicks for this dose.
They should follow the instructions from their medical professional when microdosing with Ozempic.
Related Posts