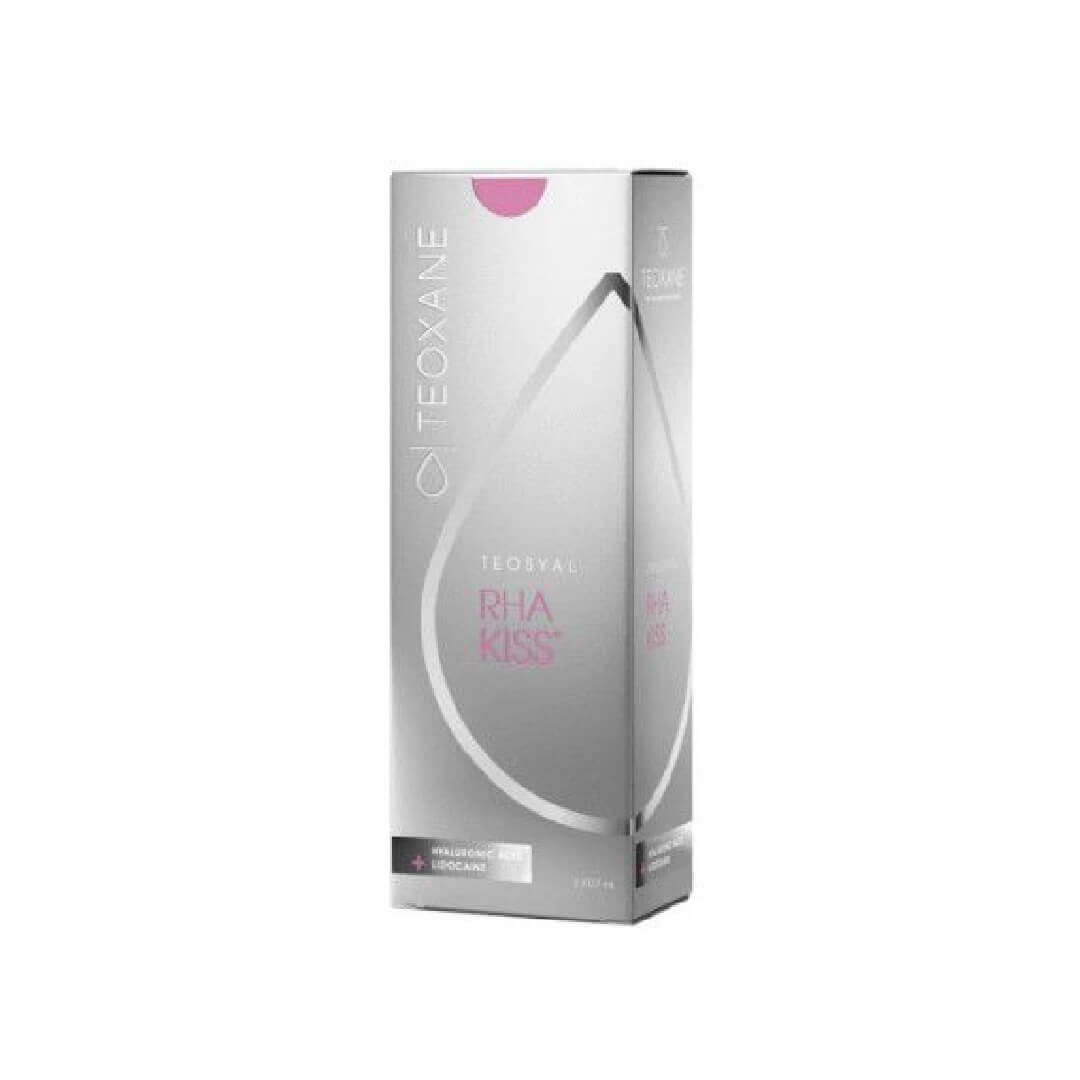 Teosyal RHA Kiss (2×0.7ml)
Product Description:
Teosyal RHA Kiss is the newest dermal filler in the Teosyal Lip Collection, designed to meet the high demands of qualified practitioners. This advanced product offers a unique formulation that combines hyaluronic acid with Resilient Hyaluronic Acid (RHA) technology, setting a new standard in facial rejuvenation. With a focus on natural-looking results and patient satisfaction, Teosyal RHA Kiss provides qualified practitioners with an exceptional tool to enhance and redefine their patients' lips.
Qualified practitioners can use Teosyal RHA Kiss for lip augmentation and enhancing lip contours. The formula of this dermal filler provides subtle volume.
Teosyal RHA Kiss is crafted with the utmost precision and is a non-animal, cross-linked hyaluronic acid-based gel. This hyaluronic acid is of exceptional purity, ensuring compatibility with the human body and reducing the risk of adverse reactions. The Resilient Hyaluronic Acid technology employed in this filler preserves the natural structure of hyaluronic acid, enhancing its durability and longevity.
Product Composition:
HA: 23mg/ml
Lidocaine: 0.3%
Product Includes:
2x 30G Needles
2x 0.7ml Syringes
Benefits:
As a qualified practitioner, investing in Teosyal Puresense RHA Kiss can elevate your practice to new heights. The RHA technology in this filler ensures optimal flexibility, allowing the product to adapt seamlessly to facial expressions, resulting in a more natural and dynamic appearance. The high concentration of hyaluronic acid in Teosyal Puresense RHA Kiss replenishes lost volume and effectively smoothens the appearance of fine lines and wrinkles around the lips.
How To Use Teosyal RHA Kiss:
The application of Teosyal RHA Kiss requires the skilled hands of a qualified practitioner. Before the treatment, a comprehensive consultation with the patient is essential to determine their desired lip enhancement goals. You should use ultra-fine needles or cannulas and inject the product into the lips to achieve the desired volume and contour. The procedure is well-tolerated by most patients, and the addition of lidocaine in the formulation ensures a more comfortable experience.
Side Effects of Teosyal RHA Kiss:
Although Teosyal RHA Kiss is considered safe and effective, qualified practitioners must inform their patients about potential side effects. Common side effects may include temporary swelling, bruising, or redness at the injection site. These effects are generally mild and subside within a few days.
Other Uses of Teosyal RHA Kiss:
Qualified practitioners can employ this filler to smoothen nasolabial folds, marionette lines, and oral commissures. Additionally, Teosyal RHA Kiss can enhance the appearance of the perioral area and redefine the cupid's bow.
| | |
| --- | --- |
| price | Prescription item zero VAT, Stock item VAT payable |