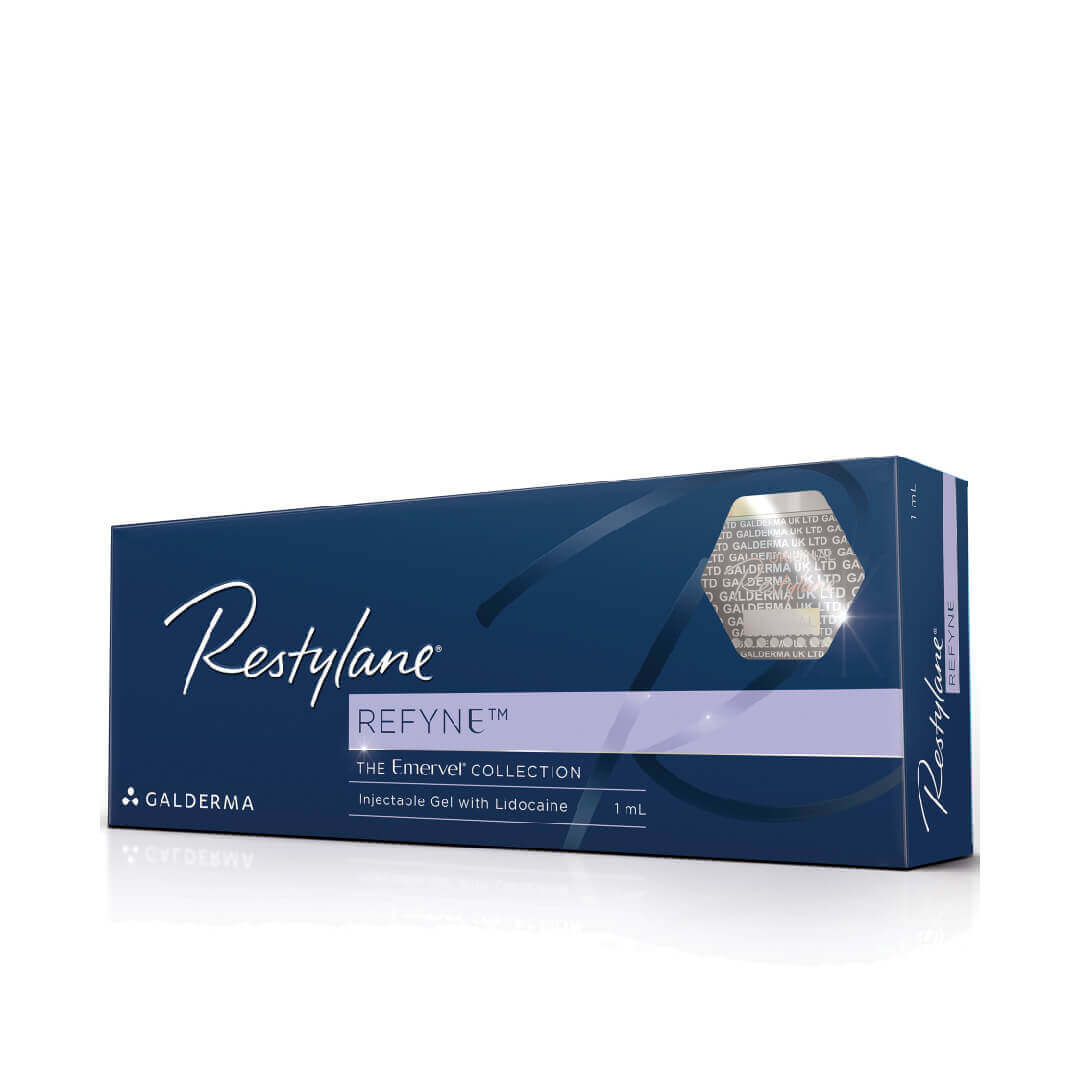 Restylane Refyne Lidocaine (1x1ml )
Product Description:
Restylane Refyne Lidocaine is an FDA-approved, cutting-edge dermal filler specifically designed for the skilled hands of qualified practitioners in the field of aesthetics. This innovative product offers a unique combination of hyaluronic acid and lidocaine, ensuring a comfortable and painless treatment experience for patients. Using Optimal Balance Technology, the filler settles and integrates smoothly into the skin.
Restylane Refyne contains the non-animal-based product Butanediol Diglycidyl Ether (BDDE). The results of this dermal filler last from 6-9 months.
This filler contains Lidocaine.
Product Composition:
HA: 20mg/ml
Lidocaine: 0.3%
Product Includes:
1x 1ml Pre-filled Syringe
Benefits:
The hyaluronic acid in this filler effectively plumps the skin from within, smoothing out facial creases and folds. The added lidocaine ensures that patients experience minimal discomfort during the procedure, making it a preferred choice for individuals with low pain tolerance.
How To Use Restylane Refyne Lidocaine:
The use of Restylane Refyne Lidocaine requires the expertise of a qualified practitioner. Before administering the filler, comprehensive consultation with the patient is essential to assess their needs and desired outcomes. During the procedure, Restylane Refyne should be skillfully injected into targeted areas using fine-gauge needles or cannulas. The practitioner must have an understanding of facial anatomy and injection techniques to achieve precise and balanced results.
Side Effects of Restylane Refyne Lidocaine:
Patients may experience mild redness, swelling, or bruising at the injection site, which is usually temporary and resolves within a few days. Adherence to proper aseptic procedures is essential to minimise the risk of infection, and patients should be provided with comprehensive aftercare instructions to support optimal healing.
Other Uses of Restylane Refyne Lidocaine:
Qualified practitioners can utilise this filler to enhance lip volume and redefine lip contours, providing patients with natural-looking and beautifully shaped lips. Restylane Refyne Lidocaine can also be employed for non-surgical nose reshaping, cheek augmentation, and chin enhancement, offering patients versatile solutions for facial harmony.
| | |
| --- | --- |
| Price | Prescription item zero VAT, Stock item VAT payable |