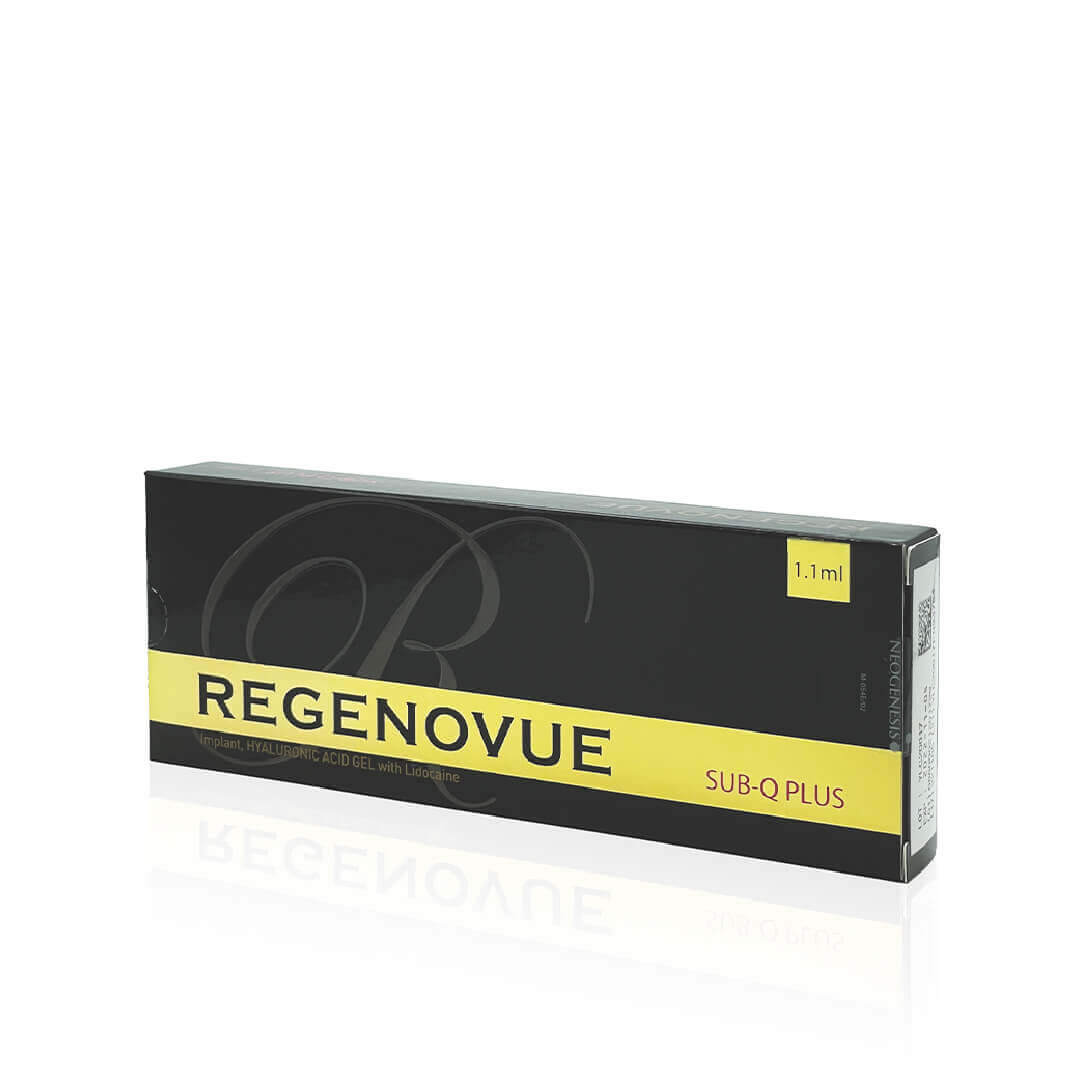 Regenovue SubQ Plus (1×1.1ml)
ADD 20 TO CART AND ONLY PAY FOR 16!
Product Description:
Regenovue SubQ Plus 1ml is a powerful and thick dermal filler, carefully formulated to provide qualified practitioners with an advanced solution for facial volumisation and contouring. Crafted with the utmost precision and using top-quality ingredients, this innovative product offers optimal results and patient satisfaction.
Regenovue SubQ Plus can decrease the look of severe facial wrinkles and folds and is the most dense in the Regenovue product range. This product contains Lidocaine to ease discomfort and pain, meaning no additional numbing products are needed.
You should store Regenovue SubQ Plus between 2-25°C.
Product Composition:
HA: 24mg/ml
Lidocaine: 0.3%
Product Includes:
2x 27G Needles
1x Syringe
Benefits:
As a qualified practitioner, you will appreciate the remarkable benefits that Regenovue SubQ Plus 1ml brings to your practice. This dermal filler is specifically tailored to address the loss of facial volume, which often occurs due to the natural ageing process. By effectively volumising and contouring the facial features, Regenovue SubQ Plus 1ml helps your patients achieve a more youthful and rejuvenated appearance. The smooth and consistent texture of the filler ensures seamless integration into the skin, delivering natural-looking results with minimal downtime.
How To Use Regenovue SubQ Plus 1ml:
Before the treatment, conduct a thorough assessment of your patient's facial anatomy and discuss their aesthetic goals to determine the most suitable treatment areas. With the help of a fine-gauge needle, carefully inject the filler into the subcutaneous tissue, ensuring precise placement for optimal volumisation and contouring.
Side Effects of Regenovue SubQ Plus 1ml:
Patients may experience mild swelling, bruising, or redness at the injection sites, which are usually temporary and subside within a few days. Aseptic techniques must be diligently followed to minimise the risk of infection. Ensure to provide your patients with comprehensive post-treatment care instructions to promote a smooth recovery.
Other Uses of Regenovue SubQ Plus 1ml:
This filler is particularly effective in restoring volume to the cheeks, chin, and jawline, enhancing facial symmetry and proportion. Additionally, Regenovue SubQ Plus 1ml can be used to address mild to moderate facial wrinkles and folds, further expanding your ability to meet your patients' unique aesthetic needs.
| | |
| --- | --- |
| price | Prescription item zero VAT, Stock item VAT payable |