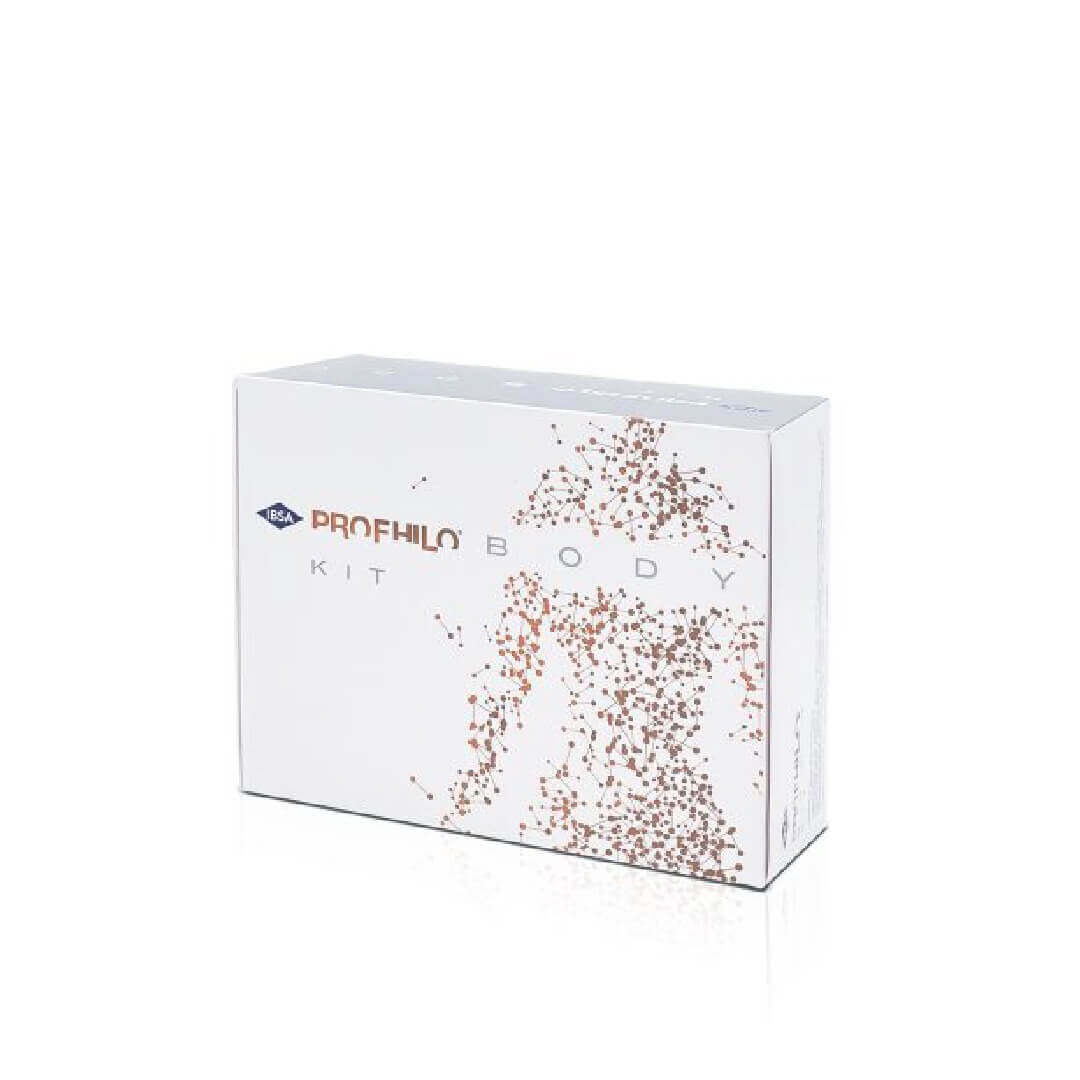 Profhilo® Body Kit
Profhilo Body Kit is a complete body treatment pack.
Profhilo Body:
Profhilo Body injectable is designed for the treatment of skin that has lost its structure and firmness. Profhilo Body injections are perfect for areas like the abdomen, upper arms, and inner thighs. Profhilo injectable uses the NAHYCO® Technology with high and low molecular weight Stable Cooperative Hybrid Complexes (HCC) that has been proven to delay the aging process.
Profhilo Figura Body Patch:
Profhilo Figura Body Patch can be used to follow up after an aesthetic treatment and is perfect for moistening and hydrating the skin while effectively reducing skin redness. The patch contains a pure high and low molecular weight of hyaluronic acids. Salvia Haenkei extracts benefitting with antioxidative activity reducing skin aging. Furthermore, it contains Escin that prevents fluid buildup in the skin and Bromelain, an extract from pineapple that helps restore the normal skin condition.
Profhilo Body Cream:
Profhilo Body Cream is a toning cream that gives hydration and elasticity to the deep skin tissue and maintains cell vitality. The cream consists of purified high and low weights of hyaluronic acid, and Matrixyl 3000 which is a peptide proven to minimize small wrinkles by producing more collagen, together they maintain the hydrolipidic film and strengthen the barrier function of the skin and regulate various cellular activities that promote skin renewal.
The pack consists of:
2 x 3ml syringes PROFHILO BODY injectable
1 x 4 patches of PROFHILO FIGURA BODY PATCH
1 x 1 bottle 150ml PROFHILO FIGURA BODY CREAM.
Key ingredients:
Cross-linked Hyaluronic Acid
Benefits of Profhilo Body Kit:
Reducing skin aging
Deeply skin moisturization
Improvement of skin elasticity
Minimising fine lines
How long does the results last for?
Profhilo Body consists of two initial injection treatments, which should be performed at a 30 days interval. The product does only requires 10 injection points in each treated area. After 3-4 weeks the skin quality will be visibly improved with an increased moisture balance, minimised fine lines, and increased elasticity of the skin. The results last in general 6-12 months depending on the skin laxity level.
The homecare body cream is recommended to be used 1-2 times a day in the treated
| | |
| --- | --- |
| Price | Prescription item zero VAT, Stock item VAT payable |