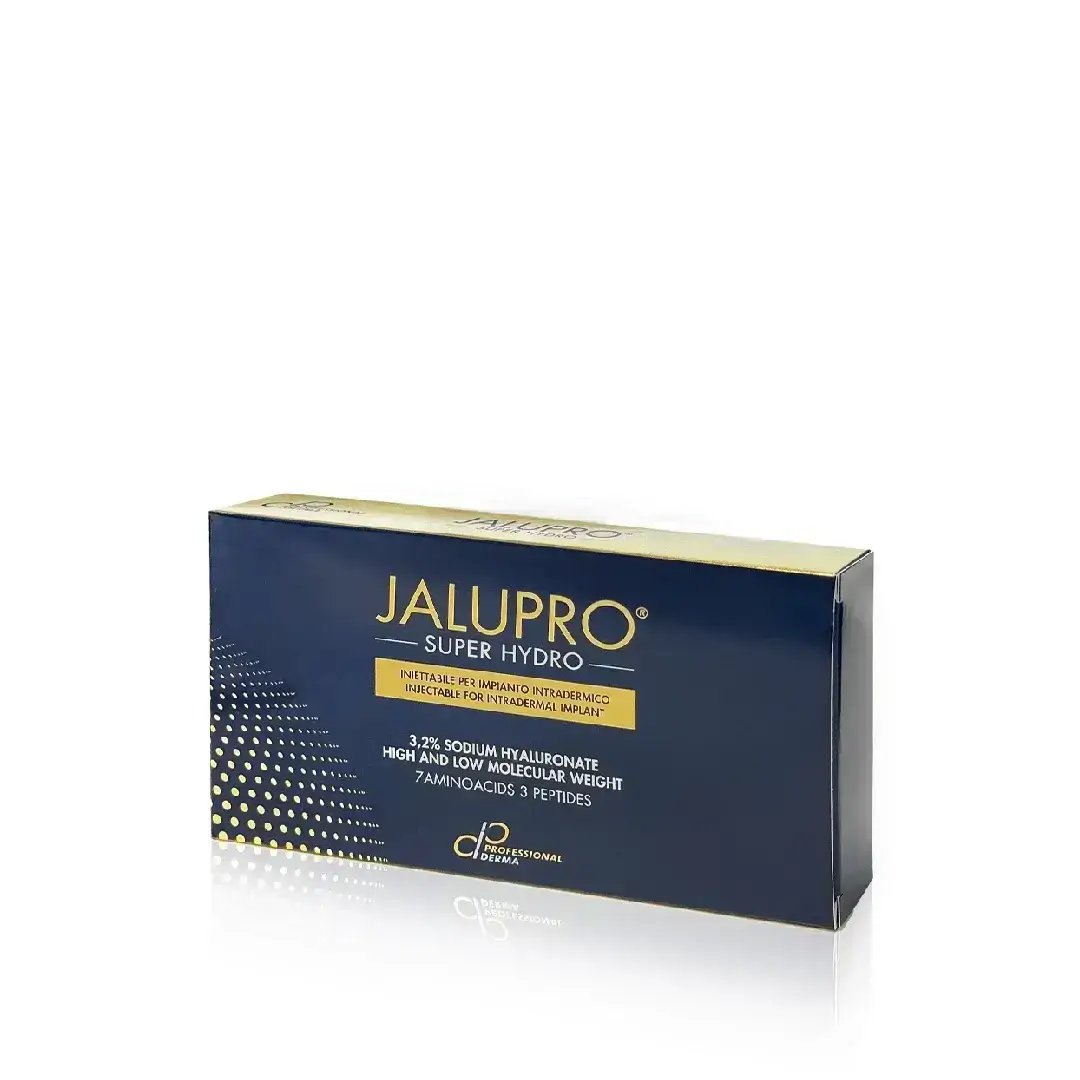 Jalupro Super Hydro
Product Description:
Jalupro Super Hydro is a cutting-edge dermal filler specifically designed to empower qualified practitioners with a versatile tool for skin rejuvenation. This innovative product is formulated with a unique blend of hyaluronic acid and amino acids, enhancing the skin's natural hydration and promoting a radiant and youthful complexion. As an esteemed professional in the field of aesthetics, investing in Jalupro Super Hydro can significantly elevate your practice and provide your patients with exceptional results.
The results of Jalupro Super Hydro are expected to last up to 6 months.
Product Composition:
HA: 80mg
Product Includes:
1 x 2.5ml Syringe
Benefits:
For the qualified practitioner, Jalupro Super Hydro offers benefits that set it apart from conventional dermal fillers. With a high concentration of hyaluronic acid, this advanced formula helps replenish the skin's moisture levels, resulting in improved elasticity, suppleness, and a reduction in the appearance of fine lines and wrinkles. The added amino acids contribute to skin revitalisation, promoting a more uniform tone and texture.
How To Use Jalupro Super Hydro:
Before the procedure, conduct a thorough assessment of the patient's skin condition and goals to determine the appropriate treatment plan. Using a fine-gauge needle, carefully inject the product into the superficial dermis or middle layer of the skin. This precise technique ensures uniform distribution and optimal absorption of the hyaluronic acid and amino acids. The procedure is minimally invasive, making it suitable for outpatient settings.
Side Effects of Jalupro Super Hydro:
Jalupro Super Hydro is known for its excellent safety profile, but as a qualified practitioner, it's essential to be aware of potential side effects. Patients may experience minor redness, swelling, or tenderness at the injection site, which are mild and transient. As with any dermal filler procedure, maintaining a high standard of aseptic technique is crucial to minimise the risk of infection. Thoroughly inform your patients about potential side effects and provide post-procedure care instructions for their optimal comfort and recovery.
Other Uses of Jalupro Super Hydro:
As a qualified practitioner, you can utilise this product to improve the appearance of sun-damaged or dehydrated skin, address skin laxity on the face and body, and reduce the appearance of acne scars.
| | |
| --- | --- |
| Price | Prescription item zero VAT, Stock item VAT payable |