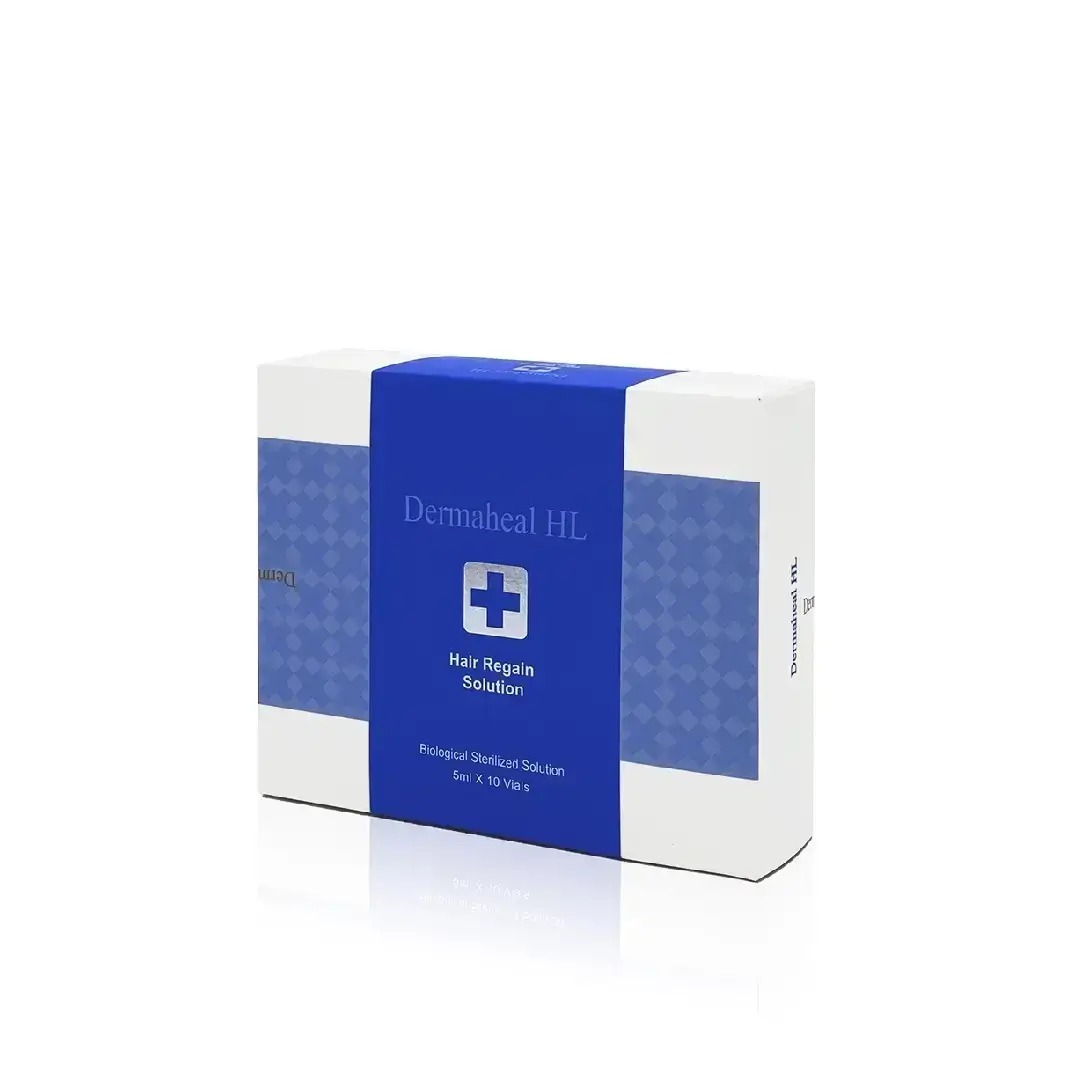 Dermaheal HL 5ml (Vials 10 x 5ml)
Product Description:
Dermaheal HL is a mesotherapy solution formulated to cater to the unique needs of qualified practitioners. This product is designed to stimulate hair growth and combat hair loss in both men and women. With its advanced blend of special ingredients and bioactive components, Dermaheal HL offers a comprehensive solution to address hair thinning and promote healthier, thicker, and more vibrant hair.
Dermaheal HL's unique composition makes it a highly effective solution for hair restoration. It contains copper tripeptide-1, acetyl decapeptide-3, and oligopeptide-71, which stimulate hair growth and improve hair texture. Additionally, bioactive compounds such as dexpanthenol and biotinyl tripeptide-1 nourish and strengthen the hair, promoting resilience and reducing breakage.
Product Composition:
Decapeptide-4 (CG-IDP2)
Acetyl Decapeptide-3 (Rejuline)
Oligopeptide-41 (CG-Keramin1)
Copper Tripeptide-1
13 Vitamins, 24 Amino Acids, 5 Minerals
4 Coenzymes, 4 Nucleic Acids, 2 Reducing Agents
Product Contains:
10x 5ml Dermaheal HL Vials
Benefits:
Dermaheal HL contains a powerful combination of peptides, growth factors, and vitamins that work synergistically to revitalise hair follicles, enhance blood circulation in the scalp, and promote natural hair growth. Patients experiencing hair thinning or hair loss can benefit from Dermaheal HL's rejuvenating effects, leading to improved hair density and overall hair health.
How To Use Dermaheal HL:
Dermaheal HL is administered through a series of microinjections with a microneedle roll directly into the scalp. As a qualified practitioner, you will carefully assess the patient's hair loss pattern and determine the optimal treatment areas.
The standard Dermaheal HL treatment is 1-2 applications per week in a course of 5 sessions in total.
Side Effects of Dermaheal HL:
Dermaheal HL is generally safe when administered by a qualified practitioner. However, as with any medical procedure, some patients may experience mild side effects, such as temporary redness, swelling, or tenderness at the injection site. These effects are typically short-lived and resolve on their own.
Other Uses of Dermaheal HL:
While Dermaheal HL is primarily known for its hair restoration properties, this versatile solution has other applications in aesthetic medicine. It can be used in combination with other Dermaheal products to address various skin concerns, such as ageing, pigmentation, and hydration.
| | |
| --- | --- |
| price | Prescription item zero VAT, Stock item VAT payable |