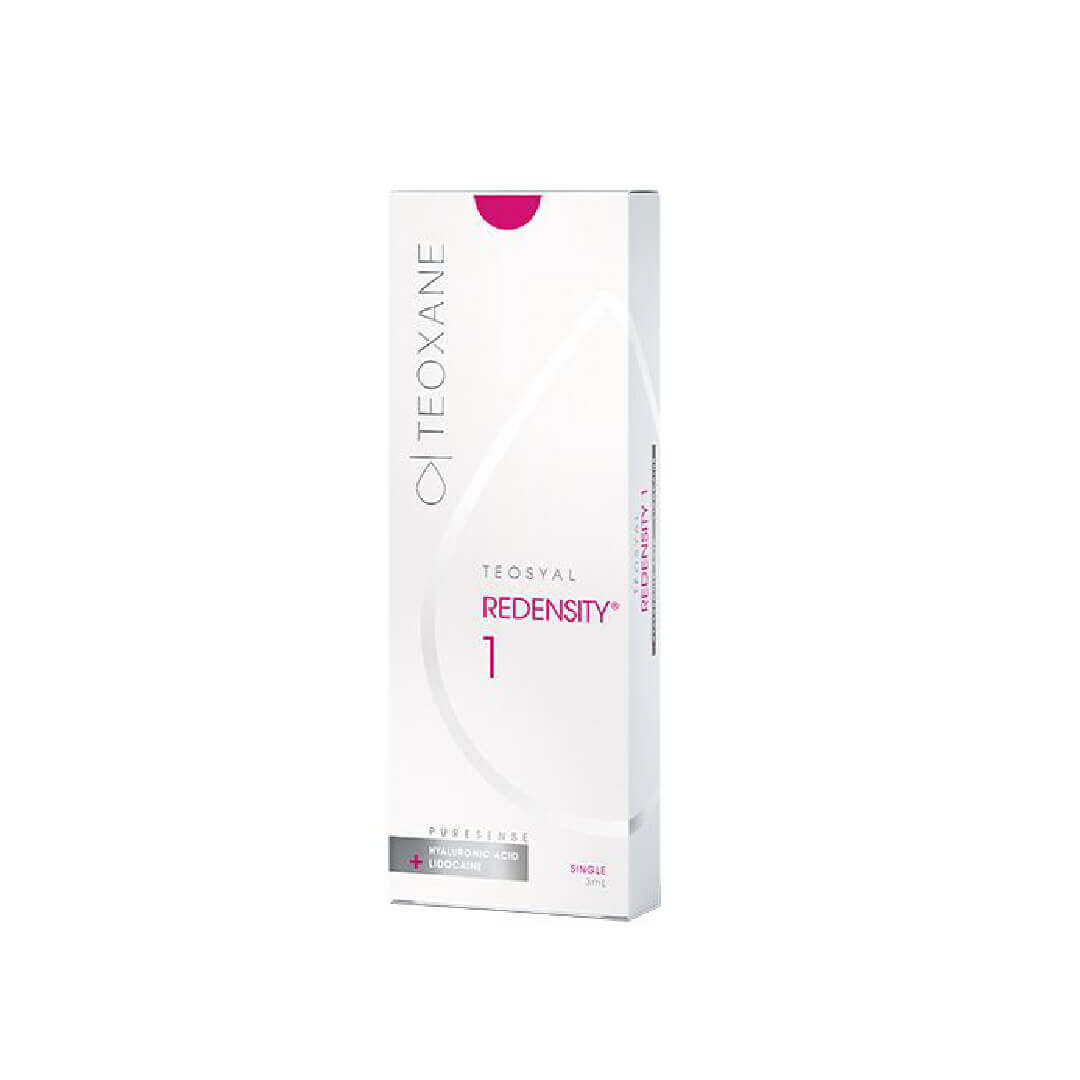 Teosyal Puresense redensity 1 (1x3ml)
Product Description:
Teosyal Puresense Redensity 1s is a cutting-edge dermal filler designed to cater to the unique needs of patients seeking natural and radiant skin rejuvenation. Crafted by Teoxane Laboratories, renowned for their excellence in aesthetic medicine, this product stands out for its exceptional composition and special ingredients. Teosyal Puresense Redensity 1s combines the benefits of hyaluronic acid (HA) and a unique blend of essential nutrients to revitalise the skin from within.
Tesosyal Puresense Redensity 1 is designed to help fill out saggy or loose skin, whilst producing a natural finish. You can also use this to improve the appearance of skin depression and acne scarring.
This dermal filler is formulated with non-cross-linked hyaluronic acid, which provides optimal hydration and volumising effects. Additionally, this innovative dermal filler contains a unique blend of amino acids, antioxidants, minerals, and vitamins, including glutathione and alpha-lipoic acid. These special ingredients work together to promote skin rejuvenation, stimulate collagen production, and combat free radicals, resulting in a more youthful and revitalised complexion.
Product Composition:
HA: 15mg/ml
Lidocaine: 0.3%
Product Includes:
1x 3ml Pre-filled Syringe
Benefits:
Qualified practitioners can rely on Teosyal Puresense Redensity 1s to provide their patients with a myriad of benefits. As a renowned dermal filler, it targets the delicate under-eye area, effectively reducing dark circles and hollows, and resulting in a refreshed and revitalised appearance. This advanced formula also promotes skin hydration and elasticity, erasing the signs of fatigue and stress. Patients can enjoy improved skin texture, minimised fine lines, and a natural glow that exudes youthfulness.
How To Use Teosyal Puresense Redensity 1:
The administration of Teosyal Puresense Redensity 1 requires the expertise of a qualified practitioner. Before the procedure, a thorough consultation with the patient is crucial to assess their skin condition and aesthetic goals. The dermal filler is skillfully injected into the targeted areas using a fine-gauge needle, ensuring precise placement for optimal results. The unique blend of hyaluronic acid and revitalising nutrients works harmoniously to rejuvenate the skin, leaving it visibly radiant and refreshed. You should offer maintenance sessions to your client every 4-6 months to maintain optimal results.
Side Effects of Teosyal Puresense Redensity 1:
While Teosyal Puresense Redensity 1s is considered safe for use, qualified practitioners should be aware of potential side effects. Patients may experience minor redness, swelling, or bruising at the injection sites, which typically resolve within a few days. Adherence to strict aseptic techniques is essential to minimise the risk of infection.
Other Uses of Teosyal Puresense Redensity 1:
Qualified practitioners can utilise this dermal filler to rejuvenate the hands, neck, and décolletage, providing comprehensive skin revitalisation for their patients.
| | |
| --- | --- |
| price | Prescription item zero VAT, Stock item VAT payable |