Mesotherapy: Everything You Need to Know
There are various reasons why clients want help from aesthetic professionals, and different procedures and treatments can be required so your client can achieve the results they want. One of these options is mesotherapy, which has become popular since its creation 70 years ago.
Mesotherapy was initially formed as a method of pain relief by Michel Pistor in France in 1952, with the term being coined 6 years later. It was originally used to treat conditions by administering medication directly into the bloodstream, and it has since developed into an aesthetic practice with a variety of uses. People can be trained to perform mesotherapy professionally through companies such as Revolve Medicare, so they can help clients to reach their cosmetic goals and feel more confident about themselves and their bodies.
What is Mesotherapy?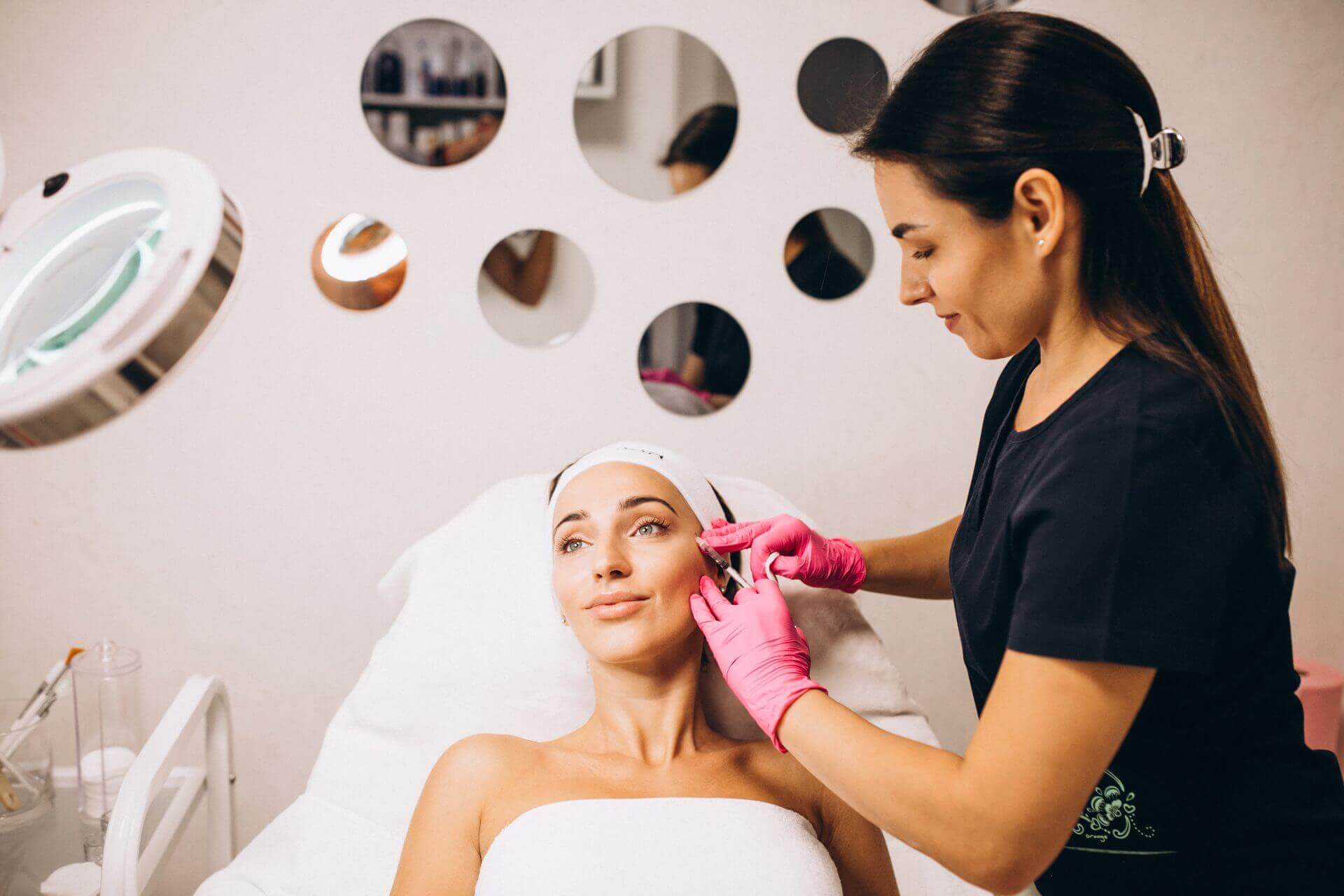 This procedure is used as a way to help with an array of concerns a client may have, such as reducing fine lines and wrinkles, aiding with ageing hands and being a treatment for dull skin, pigmentation and scars. It can also be used as a method of removal for excess fat. Mesotherapy uses fine injections or micro-needling to add different ingredients to the middle layer of the skin, known as the mesoderm, and the client shouldn't feel pain or discomfort during the procedure. Any issues from mesotherapy should be very mild.
Mesotherapy and micro-needling are not the same, but they can both be used to achieve similar effects. Whereas mesotherapy uses fine needles to inject the ingredients, micro-needling leaves tiny holes in the skin. However, micro-needling can use a mesotherapy cocktail, meaning the ingredients can still alter the skin and provide similar results for the client.
The number of sessions it takes for a client to achieve their desired result will depend on what they want, but it is common for a course of mesotherapy treatment to be advised instead of a singular session. However, some small changes may be noticed after one treatment. The client would meet with a doctor before the procedure is done so they can be informed about what will happen.
As it is used to treat numerous conditions and concerns, there is no concrete formula for what is injected into the skin, so the specific ingredients used will be selected to help a client with their specific needs. However, some things are contained in more mesotherapy injections than others. These common ingredients include amino acids, hyaluronic acid and vitamins.
The results of mesotherapy can last from months to years, and this is dependent on the client and how many treatment sessions they've had, and what the goal of the client is. This treatment does not stop ageing, meaning this will alter the skin and body, but the procedure can make the skin seem more youthful for longer.
What is in mesotherapy injections?
When a client undergoes mesotherapy, the formula used will be designed to achieve the results the client wants. For example, to tighten and repair the skin, injections can include enzymes, vitamins, plant extracts and hormones. A doctor may decide to add a range of things to a mesotherapy needle, such as:
Vasodilators, antibiotics and other prescription medications

Vitamins and minerals

Enzymes, such as hyaluronidase and collagenase

Herbal extracts

Calcitonin, thyroxin and other hormones
Dermaheal offer various mesotherapy treatments to meet an array of client requirements, such as promoting the growth of hair and making skin look brighter. Each product works to help with different concerns a client may have, so you can ensure you find the right solution for them.
Another example of a mesotherapy solution is Neofound 3ml vials, which can help to smooth wrinkles and improve the texture of the skin. This is designed to be used as a course of treatment over 2-4 sessions to help regenerate skin cells and uses a combination of ingredients, including amino acids.
Common target areas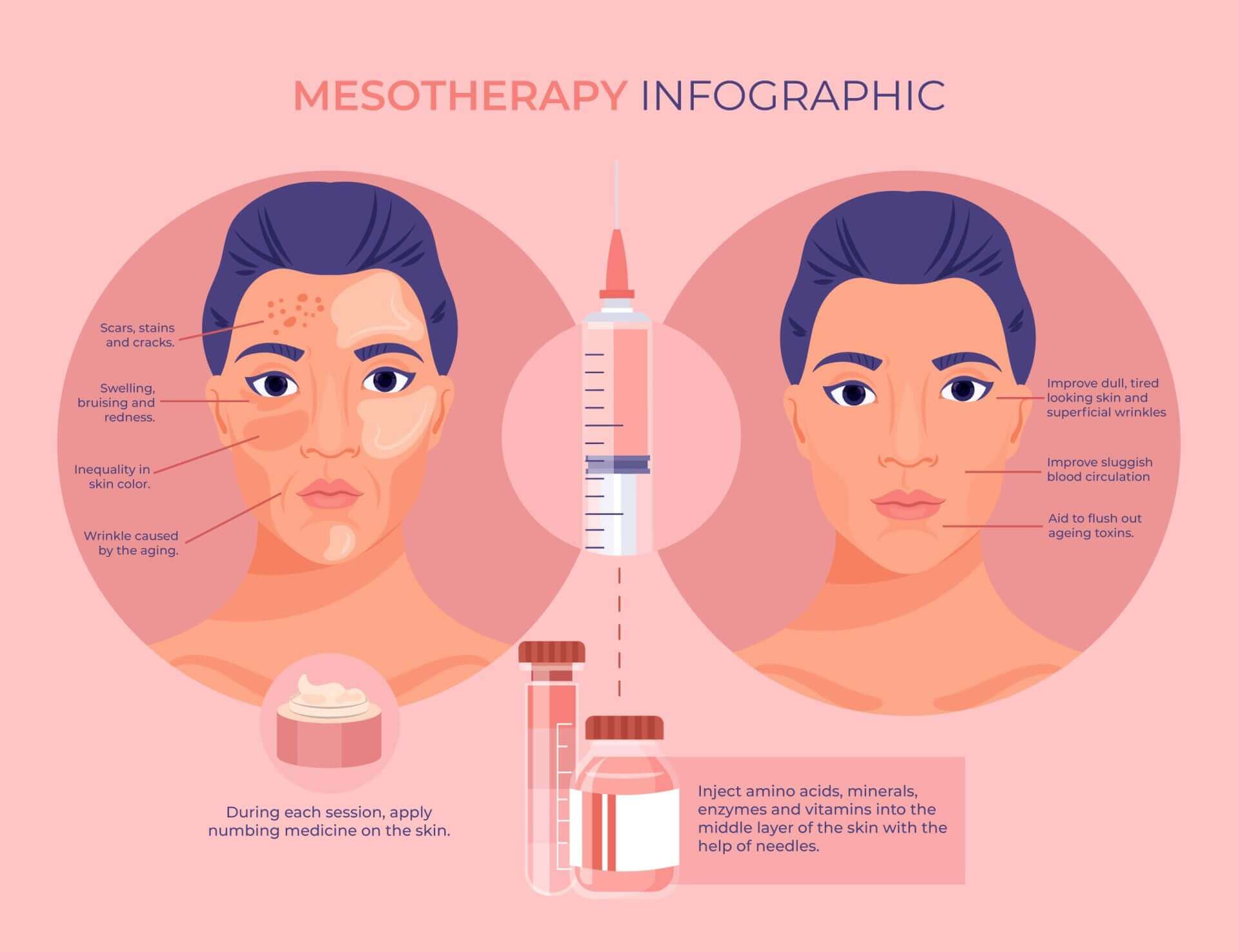 There are numerous ways mesotherapy can be used, such as in the face. The exact reason a client decides to undergo this procedure is personal to them, but there are common areas that they can alter, such as:
Removing fat in the face, arms, stomach, hips, buttocks, thighs and legs

Recontouring the body

Reducing cellulite in the body

Treating alopecia by improving the blood circulation to the scalp

Making fine lines and wrinkles fade

Tightening loose skin

Lightening pigmented skin
Using mesotherapy as a method of fat removal is a nonsurgical option instead of liposuction. Liposuction requires up to six weeks to recover and is a more invasive procedure. However, it also permanently removes the fat in question from the body.
What are the side effects of mesotherapy?
All medical procedures can come with side effects, but these risks are minimised when someone who is medically trained performs mesotherapy on a patient.
Some of the reported side effects of mesotherapy include:
Bumps where the needle was injected

Bruising

Dark patches of skin

Infection

Itching

Nausea

Pain

Rash

Redness

Scars

Sensitivity

Swelling
However, as mesotherapy is a non-invasive procedure, many people who undergo this practice are immediately able to return to their usual routine. People who are suffering from pain or swelling where the solution was injected may need to take a day off to deal with these side effects.
If a client is suffering from bumps at the injection site, these should reduce within 12-24 hours. 
Though it was initially formed as a way to relieve pain and treat medical conditions, mesotherapy is used by professionals to help their clients achieve the look they want. Revolve Medicare has mesotherapy training available for those wanting to perform this procedure professionally, as well as a range of other specialities. If you want aesthetics training from medical professionals, such as how to administer dermal filler and chemical peel, take a look and see what training we can support you with today.
Related Posts