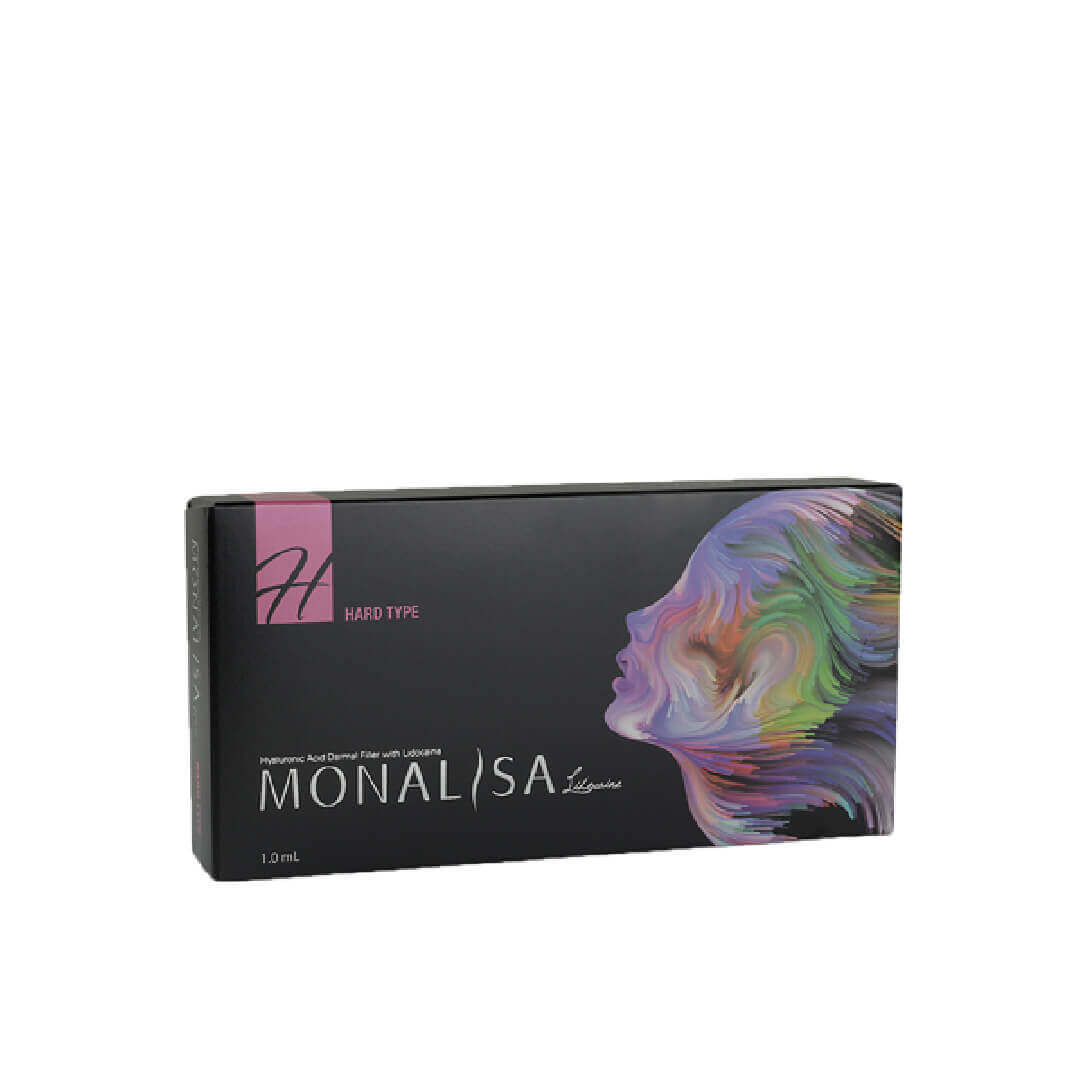 Monalisa Lidocaine Filler – Hard – 1 X 1 ml
Product Description:
Monalisa Lidocaine Hard Filler is an innovative and versatile dermal filler designed to meet the aesthetic needs of qualified practitioners. This advanced formulation combines the benefits of hyaluronic acid, lidocaine, and a unique hard gel technology to provide exceptional results for facial volumisation, contouring, and wrinkle correction. With its superior quality and efficacy, Monalisa Lidocaine Hard Filler offers qualified practitioners a reliable solution to enhance their patients' appearance with precision and confidence.
Monalisa Lidocaine Hard Filler should be stored between 2-25°C.
Product Composition:
HA: 24mg/ml
Lidocaine: 0.3%
Product Contains:
1 x 1ml Syringe
1 x 25G Needle
1 x 27G Needle
Benefits:
Enhanced Facial Volume: Monalisa Lidocaine Hard Filler is specifically designed to restore and enhance facial volume. It's high viscosity and advanced hard gel technology makes it ideal for addressing deep wrinkles, severe folds, and volume-deficient areas such as cheeks, temples, and chin. The result is a more youthful and rejuvenated appearance.
Long-Lasting Results: The unique composition of Monalisa Lidocaine Hard Filler ensures long-lasting results. The high-quality hyaluronic acid in the filler provides structural support and stimulates collagen synthesis, leading to improved skin elasticity over time. Patients can enjoy the benefits of their rejuvenated appearance for an extended period before considering touch-up treatments.
Patient Comfort: Monalisa Lidocaine Hard Filler is formulated with lidocaine, a local anesthetic, to enhance patient comfort during the treatment. Lidocaine minimizes pain and discomfort, making the injection process more tolerable for patients. This contributes to a positive treatment experience and overall patient satisfaction.
How To Use Monalisa Lidocaine Hard Filler 1x1ml:
1. Conduct a comprehensive consultation with your patient to understand their aesthetic concerns and desired outcomes. Assess their facial features, volume loss areas, and skin condition. Develop a personalized treatment plan that addresses their specific needs and ensures facial harmony.
2. Prepare the treatment area by cleansing it thoroughly. Evaluate the patient's medical history, allergies, and potential contraindications. Discuss the treatment process, including the expected outcomes and potential side effects, to ensure the patient's informed consent.
3. Administer Monalisa Lidocaine Hard Filler using the syringe and needles provided. Pay attention to the depth and placement of the filler to achieve optimal facial volumisation, contouring, and wrinkle correction. Monalisa Hard Filler should be injected into the middle to deep dermis layer of the subcutis.
4. Provide post-treatment instructions to your patients. Advise them to avoid excessive sun exposure, intense physical activities, and certain medications or supplements that may increase the risk of bruising or swelling.
Side Effects of Monalisa Lidocaine Hard Filler 1x1ml:
While Monalisa Lidocaine Hard Filler is generally well-tolerated, it is important to inform patients about potential side effects. Common side effects may include temporary redness, swelling, tenderness, or bruising at the injection site. Educate patients about these side effects and reassure them that they typically subside within a few days. Encourage patients to contact your practice if they experience severe or prolonged side effects.
Other Uses of Monalisa Lidocaine Hard Filler 1x1ml:
Monalisa Hard Filler can enhance the appearance of chin and jawline contours, refine the nose shape, and rejuvenate the hands. Its versatility allows qualified practitioners to offer comprehensive aesthetic solutions tailored to their patient's individual needs and preferences.
| | |
| --- | --- |
| Price | Prescription item zero VAT, Stock item VAT payable |