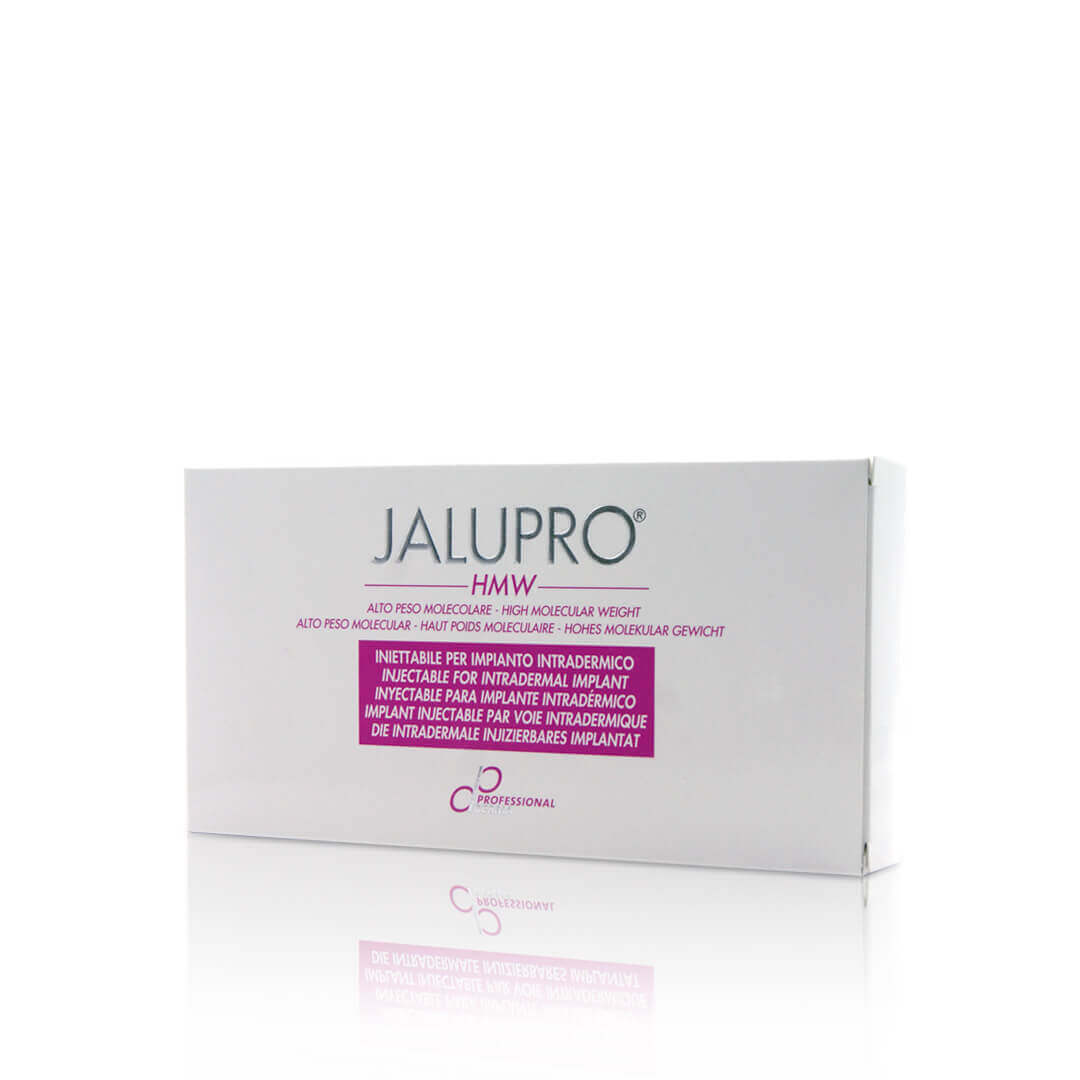 Jalupro HMW (1 x 1.5ml + 1 x 1ml)
Product Description:
Jalupro HMW is a cutting-edge dermal bio-revitaliser designed to provide qualified practitioners with a powerful tool for skin rejuvenation and anti-ageing treatments. This unique product is formulated with a blend of high molecular weight hyaluronic acid and amino acids, carefully selected to stimulate collagen production, enhance skin elasticity, and restore a youthful complexion.
Benefits:
As a qualified practitioner, incorporating Jalupro HMW into your practice offers a multitude of benefits for your patients. This dermal bio-revitaliser is known for its exceptional ability to improve skin texture, tone, and firmness. By stimulating collagen synthesis and promoting natural tissue regeneration, Jalupro HMW effectively reduces the appearance of fine lines, wrinkles, and skin sagging. Patients can enjoy a smoother, more hydrated complexion with improved elasticity, resulting in a youthful and radiant appearance.
How To Use Jalupro HMW:
Using Jalupro HMW requires the expertise of a qualified practitioner. Before the treatment, a thorough assessment of the patient's skin condition and medical history is essential to determine the appropriate treatment plan. Jalupro HMW is typically administered via microinjections into the dermal layer of the skin. The procedure is minimally invasive and can be performed in an outpatient setting. Depending on the patient's needs and desired outcomes.
Side Effects of Jalupro HMW:
Patients may experience mild redness, swelling, or bruising at the injection sites, which are usually temporary and subside within a few days. As with any dermal filler or bio-revitalise, strict adherence to aseptic techniques is crucial to minimise the risk of infection.
Other Uses of Jalupro HMW:
The product is effective in treating acne scars and improving the appearance of stretch marks, providing patients with smoother and more even-toned skin. Furthermore, Jalupro HMW can be combined with other aesthetic treatments, such as botulinum toxin injections or dermal fillers, to achieve comprehensive facial rejuvenation.
| | |
| --- | --- |
| Price | Prescription item zero VAT, Stock item VAT payable |