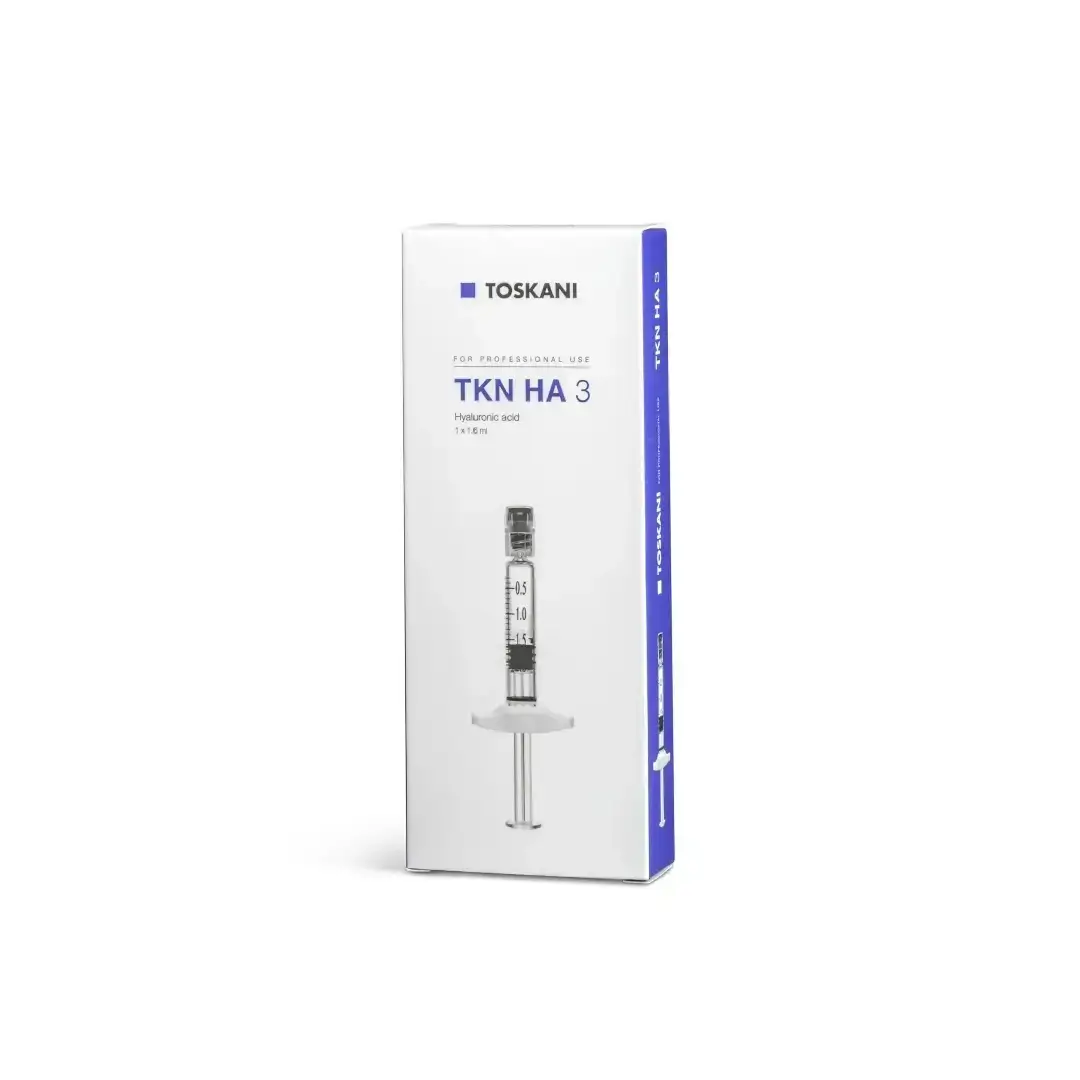 TKN HA 3 SKIN BOOSTER – 1 X 1.5ML
Product Description:
The TKN HA 3 Skin Booster is a cutting-edge dermal filler designed to elevate the standard of facial rejuvenation for qualified practitioners. This innovative product harnesses the power of hyaluronic acid (HA) to revitalise and replenish the skin, delivering natural-looking results that boost patients' confidence and restore their youthful radiance. As a qualified practitioner, integrating TKN HA 3 Skin Booster into your practice will enable you to offer your patients an advanced solution for skin hydration and rejuvenation.
TKN HA 3 has a molecular weight of 3,000 kDa.
Benefits:
The hyaluronic acid in this skin booster is engineered to have a low molecular weight, allowing for optimal penetration into the deeper layers of the skin. This results in improved hydration and plumping of the skin, reducing the appearance of fine lines, wrinkles, and creases. Moreover, the skin's texture and elasticity are enhanced, and patients experience a radiant and youthful complexion.
How To Use TKN HA 3 Skin Booster:
As a qualified practitioner, you can administer TKN HA 3 Skin Booster via a series of microinjections into the targeted treatment areas. The procedure is minimally invasive and well-tolerated by patients, making it suitable for outpatient settings. Before the treatment, conduct an assessment of your patient's skin and discuss their aesthetic goals to tailor the procedure accordingly. Following aseptic techniques, inject the skin booster into the deep dermis to achieve optimal results.
Side Effects of TKN HA 3 Skin Booster:
Patients may experience mild redness, swelling, or bruising at the injection sites, which typically resolve within a few days. Educate your patients about these common reactions and provide them with post-procedure care instructions to ensure a smooth recovery process.
Other Uses of TKN HA 3 Skin Booster:
Qualified practitioners can employ this skin booster in combination with other dermal fillers to create a customised treatment plan for each patient. Additionally, TKN HA 3 Skin Booster can be used to enhance the results of various cosmetic procedures, such as microneedling or laser treatments, by promoting better skin healing and regeneration.
| | |
| --- | --- |
| price | Prescription item zero VAT, Stock item VAT payable |