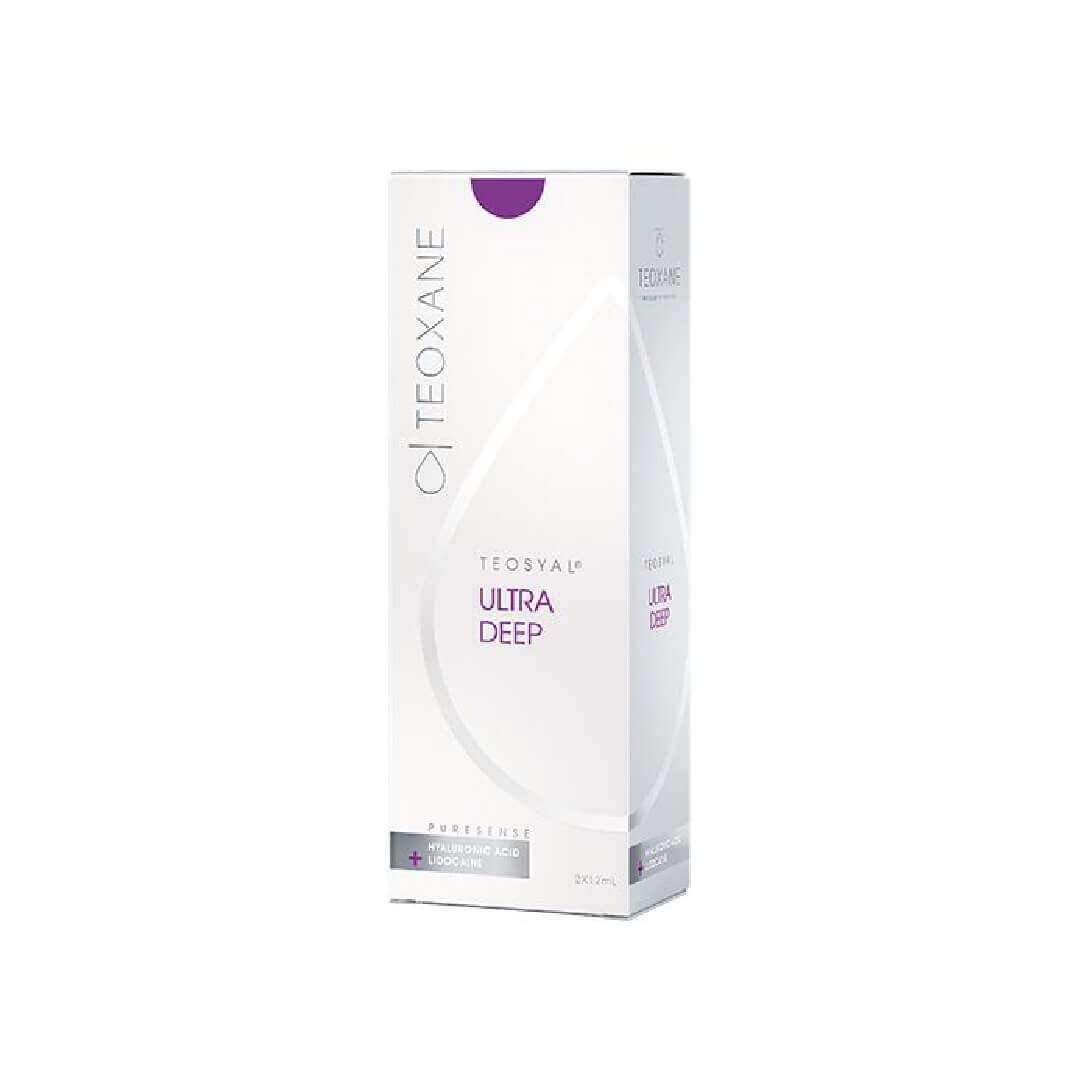 Teosyal Puresense Ultra Deep (2x1ml)
Product Description:
Teosyal Puresense Ultra Deep is a cutting-edge dermal filler specially designed to provide qualified practitioners with an exceptional tool for facial rejuvenation and contouring. This remarkable product is part of the Teosyal Puresense line, renowned for its high-quality hyaluronic acid-based fillers.
Teosyal Puresense Ultra Deep is one of the most intensive treatments from Teoxane, which offers volume correction for areas of clients' faces that look aged.
The Teosyal formula mimics the natural human hyaluronic acid, which supports the skin without adding rigidity. This means your client's facial expressions and emotions remain unaffected.
Results from Teosyal Puresense Ultra Deep can last up to 12 months.
Product Composition:
HA: 25mg/ml
Lidocaine: 0.3%
Product Includes:
2x 1ml Syringes
Benefits:
The unique formulation of this dermal filler allows for deep and precise injections, making it ideal for treating severe facial wrinkles, volumising the cheeks, and restoring facial contours. The hyaluronic acid in Teosyal Puresense Ultra Deep attracts and retains moisture, effectively hydrating the skin and improving its texture. With the added benefit of lidocaine, patients experience reduced discomfort during the procedure, enhancing overall satisfaction.
How To Use Teosyal Puresense Ultra Deep:
Before the procedure, a thorough consultation with the patient is essential to assess their medical history, skin condition, and aesthetic goals. Using a fine-gauge needle, the filler is skillfully injected into the deep dermis or subcutaneous tissue, depending on the treatment area. The unique properties of Teosyal Puresense Ultra Deep ensure precise placement and smooth, even distribution of the filler.
Side Effects of Teosyal Puresense Ultra Deep:
While Teosyal Puresense Ultra Deep is considered safe and well-tolerated, qualified practitioners must be aware of potential side effects. Patients may experience minor and temporary reactions at the injection site, such as redness, swelling, or bruising. These reactions are typically mild and resolve within a few days. Adherence to proper aseptic techniques and thorough post-procedure care are essential to minimise the risk of adverse events.
Other Uses of Teosyal Puresense Ultra Deep:
In addition to its primary applications for facial rejuvenation and volumisation, Teosyal Puresense Ultra Deep has versatile uses in aesthetic medicine. Qualified practitioners can employ this filler for non-surgical nose reshaping, chin augmentation, and enhancing the jawline.
| | |
| --- | --- |
| price | Prescription item zero VAT, Stock item VAT payable |