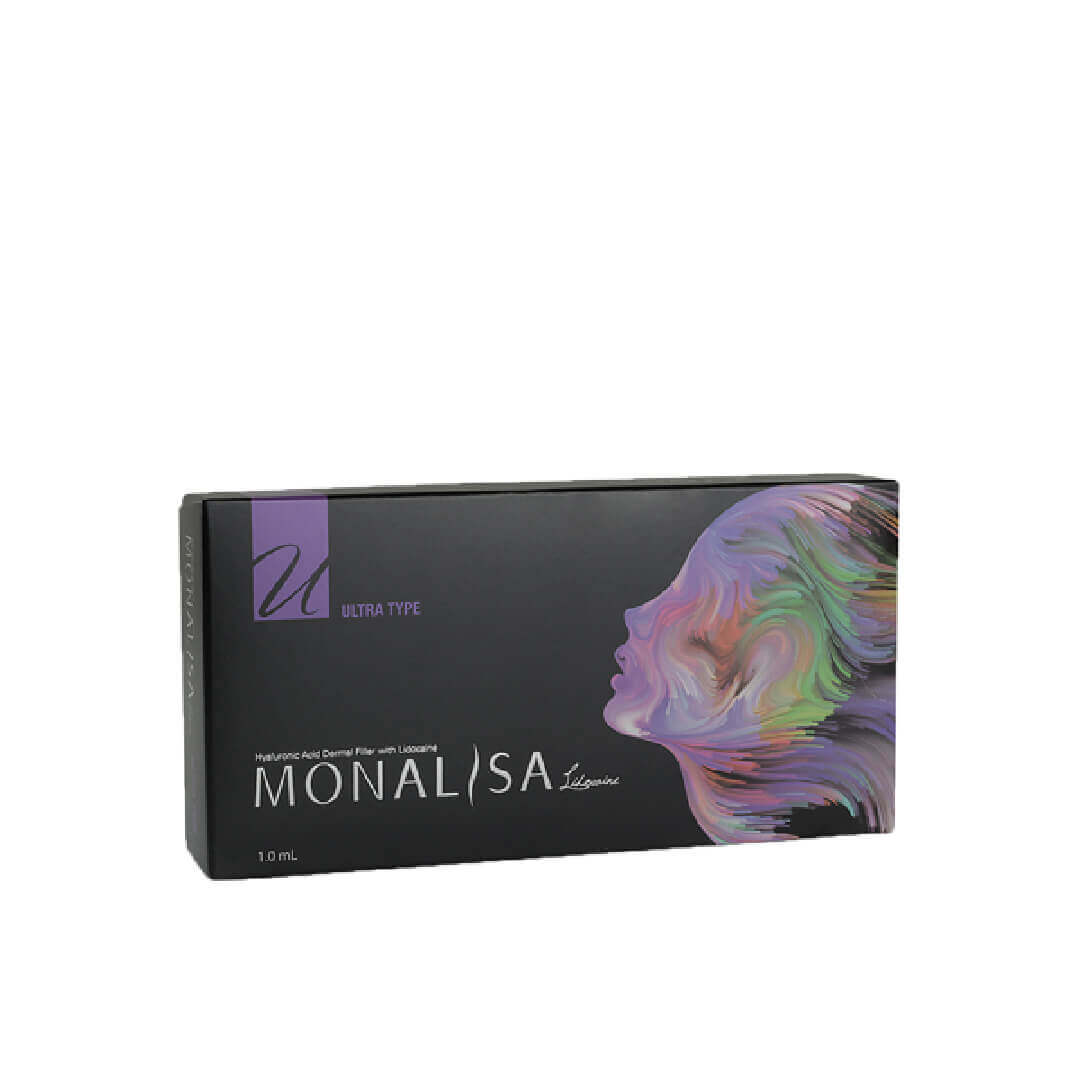 Monalisa Lidocaine Filler – Ultra – 1 X 1 ml
Product Description:
Monalisa Lidocaine Ultra 1x1ml is an innovative dermal filler that sets a new standard in aesthetic enhancement. This advanced filler combines the benefits of hyaluronic acid and Lidocaine and cutting-edge to deliver natural-looking results to patients. Monalisa Lidocaine Ultra Filler has become a go-to choice for qualified practitioners seeking to provide their patients with natural-looking and long-lasting improvements.
Monalisa Ultra Filler should be stored between 2-25°C.
Product Composition:
HA: 24mg/ml
Lidocaine: 0.3%
Product Includes:
1 x 1ml Syringe
1 x 25G Needle
1 x 27G Needle
Benefits:
Provides hydration and stimulates collagen production, further enhancing the skin's elasticity and texture.
Patients can experience minimal discomfort during the injection process, ensuring a positive and comfortable experience.
The long-lasting effects of Monalisa Lidocaine Ultra Filler contribute to patient satisfaction and reduce the need for frequent touch-up treatments.
How To Use Monalisa Lidocaine Ultra Filler 1x1ml:
Consult the patient and understand what desired outcome they are looking for.
Prepare the treatment area by cleansing and disinfecting the skin thoroughly.
Administer the filler into the targeted areas, adjusting the quantity and depth based on the desired results. Monalisa Ultra Filler should be injected into the deep layer of the subcutis.
Massage the treated area to ensure the product is distributed evenly.
Advise patients on post-treatment care, such as avoiding excessive sun exposure and strenuous physical activity.
Side Effects of Monalisa Lidocaine Ultra Filler 1x1ml:
Temporary reactions at the injection site can occur, such as redness, swelling, bruising, or tenderness, may occur. These effects are typically mild and resolve within a few days. In rare cases, patients may experience hypersensitivity or allergic reactions.
Other Uses of Monalisa Lidocaine Ultra Filler 1x1ml:
It can be utilised for non-surgical nose reshaping, chin augmentation, and restoring facial symmetry, providing qualified practitioners with additional treatment options to address various aesthetic concerns. Expanding the scope of your practice with Monalisa Lidocaine Ultra Filler allows you to meet the diverse needs of your patients and deliver exceptional results.
| | |
| --- | --- |
| Price | Prescription item zero VAT, Stock item VAT payable |