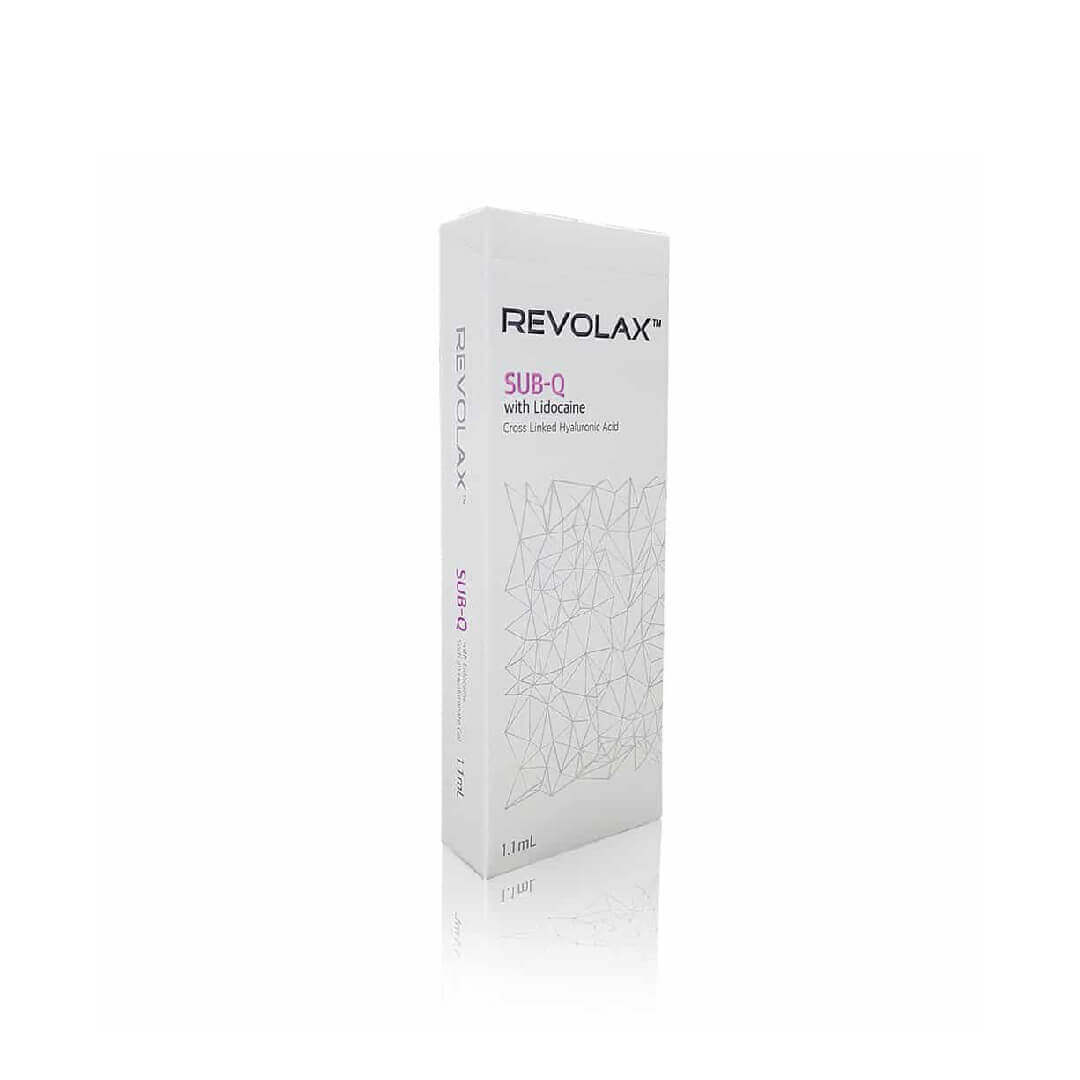 Revolax Sub Q With Lidocaine (1x1ml)
Product Description:
Revolax SubQ with Lidocaine is a cutting-edge dermal filler designed to meet the diverse needs of qualified practitioners in the field of aesthetic medicine. This exceptional product boasts a unique formulation that combines the benefits of hyaluronic acid, lidocaine, and special ingredients to ensure optimal patient comfort and outstanding results.
Revolax SubQ is the thickest dermal filler within the Revolax line. It can mould and maintain its structure to treat deep to severe wrinkles.
The results of this dermal filler will last 12-18 months.
Product Composition:
HA: 24mg/ml
Lidocaine: 0.3%
Product Includes:
1x 1.1ml Syringe
2x 25G Needles
Benefits:
This premium dermal filler contains high-quality hyaluronic acid, which effectively replenishes lost volume and revitalises the skin. The inclusion of lidocaine ensures a painless treatment experience, promoting patient satisfaction and comfort throughout the procedure.
How To Use Revolax SubQ with Lidocaine:
The application of Revolax SubQ with Lidocaine requires the expertise of a qualified practitioner. Before the procedure, a thorough assessment of the patient's facial anatomy and desired outcomes is essential for optimal results. Using an appropriate technique, the filler is skillfully injected into the subcutaneous or deep dermal layer, effectively restoring volume and contouring the face.
Side Effects of Revolax SubQ with Lidocaine:
Patients may experience minor swelling, bruising, or redness at the injection site, which typically resolves within a few days. Qualified practitioners must adhere to strict aseptic techniques to minimise the risk of infection and other adverse reactions. Proper post-procedure care instructions should be provided to patients to ensure a smooth recovery.
Other Uses of Revolax SubQ with Lidocaine:
Beyond volume restoration and facial contouring, Revolax SubQ with Lidocaine can be utilised for various other cosmetic purposes. Qualified practitioners can employ this versatile filler to enhance the appearance of the chin and jawline, augmenting the cheeks, and rejuvenating the hands.
| | |
| --- | --- |
| Price | Prescription item zero VAT, Stock item VAT payable |