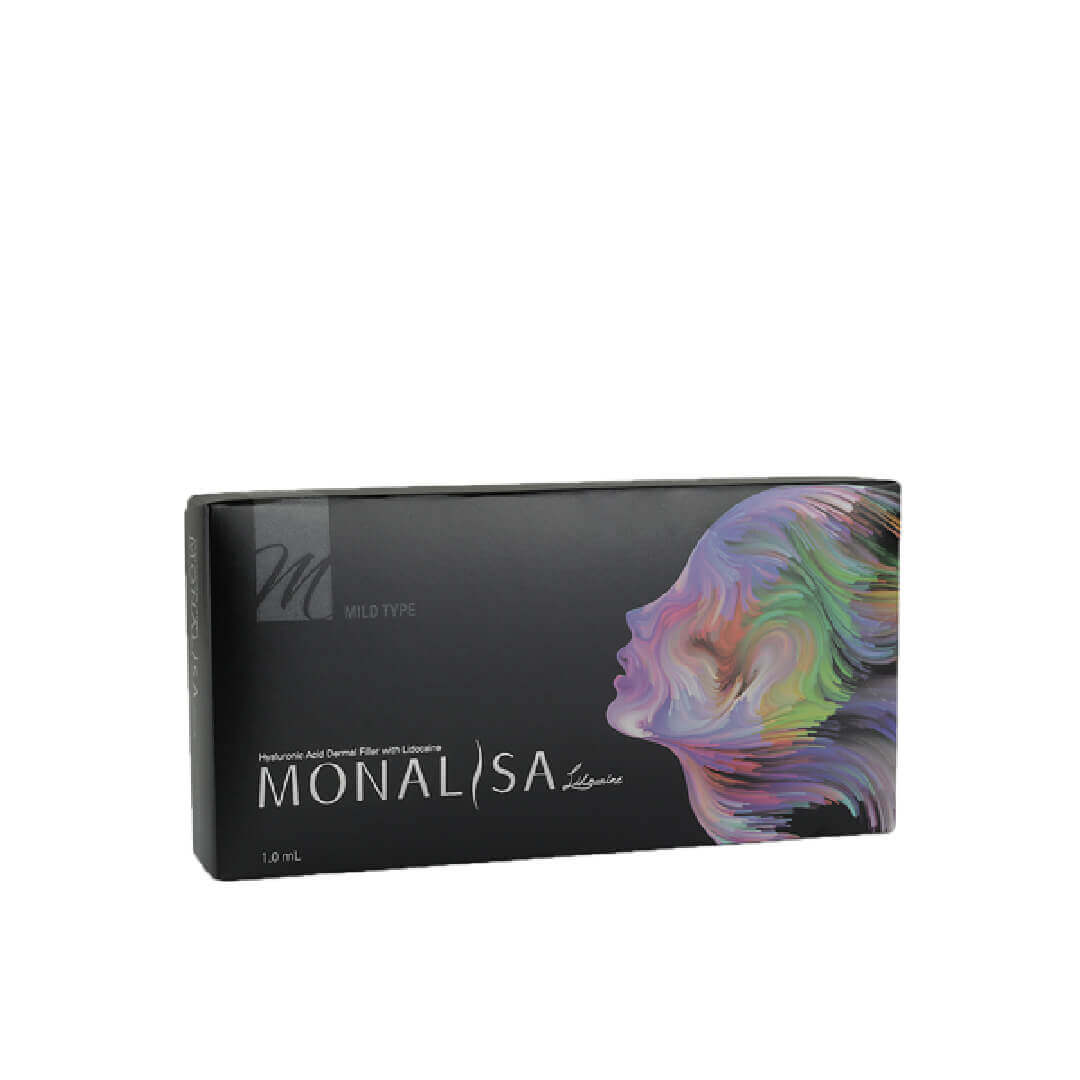 Monalisa Lidocaine Filler – Mild – 1 X 1 ml
Product Description:
Monalisa Lidocaine Mild Filler 1x1ml is an innovative dermal filler that effectively treats mild to moderate facial wrinkles while restoring volume. It combines hyaluronic acid, lidocaine, and soft gel technology for natural results and minimal discomfort. Qualified practitioners rely on its quality and versatility to enhance patients' appearance and confidence.
Product Composition:
HA: 24mg/ml
Lidocaine: 0.3%
Product Contains:
1 x 1ml Syringe
2 x 27G Needles
Benefits:
Reduces the appearance of fine lines and wrinkles, including crow's feet, forehead lines, and nasolabial folds. By replenishing lost volume and stimulating collagen production, this filler helps patients achieve a smoother and more youthful complexion.
Allows for seamless integration with the surrounding tissue, resulting in natural-looking outcomes. Patients can enjoy subtle and balanced enhancements that enhance their facial features without an overly artificial appearance.
Contains lidocaine, a local anesthetic that minimises discomfort during the injection process. This enhances patient comfort and reduces anxiety, ensuring a positive treatment experience.
How To Use Monalisa Lidocaine Mild Filler 1x1ml:
Arrange a consultation with your patient to understand their aesthetic concerns and desired outcomes. Assess their facial anatomy, identify areas of concern, and determine the appropriate treatment plan.
Prepare the treatment area by cleansing it thoroughly. Evaluate the patient's medical history, allergies, and potential contraindications. Discuss the treatment process, including the expected outcomes and possible side effects, to ensure the patient's informed consent.
Administer Monalisa Lidocaine Mild Filler using a fine-gauge needle or cannula. Employ your expertise to achieve precise and controlled results. Inject Monalisa Mild Filler with Lidocaine into the superficial dermis or the middle layer of the subcutis using the provided syringe and needles.
Inform your patient of the recommended aftercare after their aesthetic procedure. Advise them to avoid sun exposure, intense physical activity and certain medications which can increase the risk of swelling and bruising.
Side Effects of Monalisa Lidocaine Mild Filler 1x1ml:
Common side effects may include temporary redness, swelling, tenderness, or bruising at the injection site. These side effects typically disappear within a few days.
Other Uses of Monalisa Lidocaine Mild Filler 1x1ml:
In addition to its primary application for wrinkle correction, Monalisa Lidocaine Mild Filler can be used for various other purposes. It can effectively enhance lip volume and shape, refine the appearance of facial contours, and improve the overall skin texture. Its versatility allows qualified practitioners to tailor treatments to address their patient's specific needs, providing comprehensive aesthetic solutions.
| | |
| --- | --- |
| Price | Prescription item zero VAT, Stock item VAT payable |