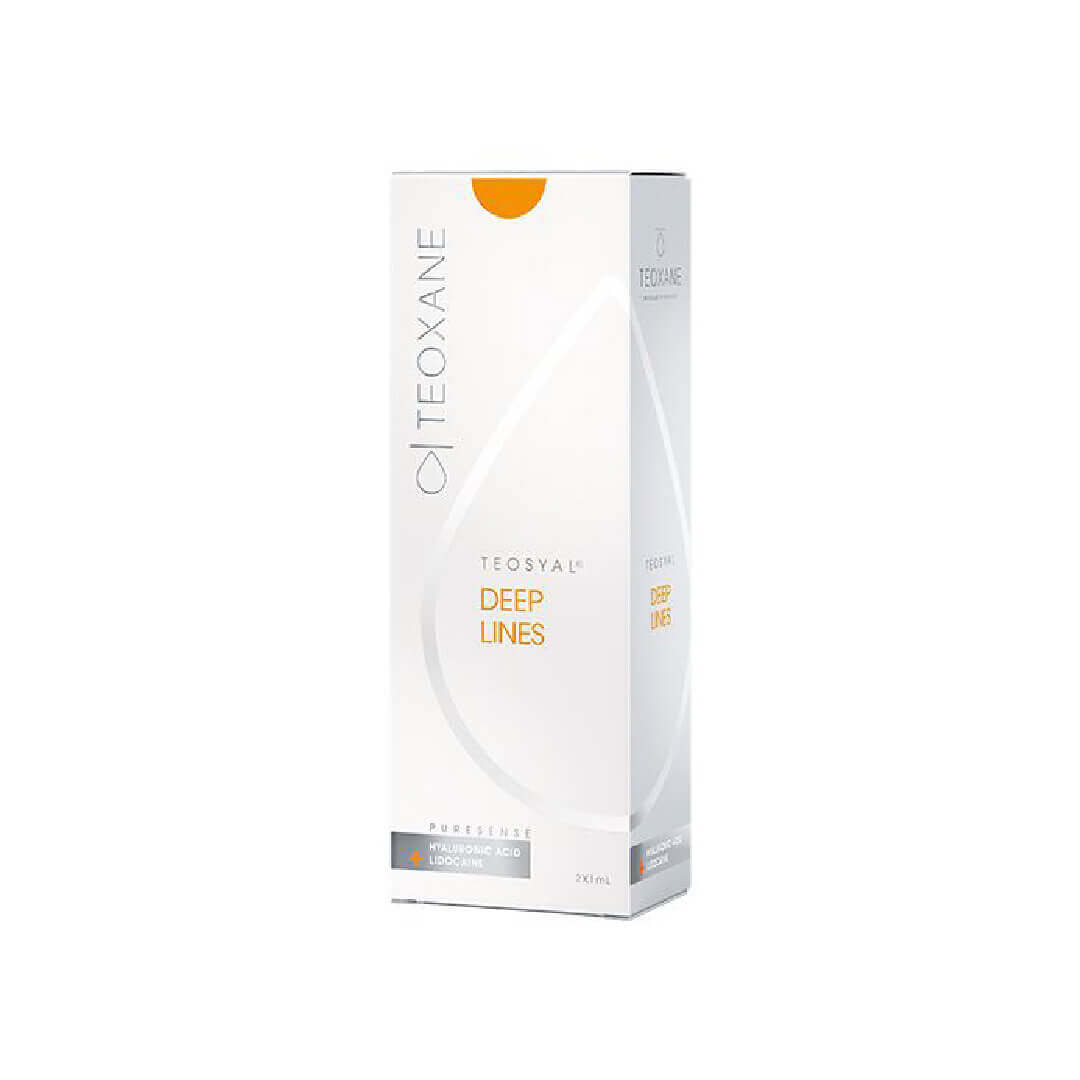 Teosyal Puresense deep lines (2x1ml)
Product Description:
Teosyal Puresense Deep Lines is a dermal filler meticulously formulated to combat deep-set wrinkles and lines, leaving your patients with a revitalised and youthful complexion.
This cutting-edge treatment has an optimal viscoelastic profile, adapted for treating deep wrinkles, such as crow's feet, expression lines, severe nasolabial folds and marionette lines.
Product Composition:
HA: 25 mg
Lidocaine: 0.3%
Product Contains:
2 x Syringe
Sterile needles
Benefits:
Lasting Volume Restoration: Your patients will experience a significant boost in facial volume as Teosyal Puresense Deep Lines plumps up areas that have lost their youthful fullness, restoring their natural contours.
Long-Lasting Results: Its innovative formula ensures enduring outcomes, allowing your clients to enjoy their youthful radiance long-term.
Minimally Invasive: Your client can skip the surgical route and opt for a minimally invasive solution with Teosyal Puresense Deep Lines. They won't experience lengthy recoveries and can, instead, welcome a simple, efficient procedure with minimal downtime.
How To Use Teosyal Puresense Deep Lines 2X1ML:
Assess your patient and their needs to evaluate the dosage to use.
Inject Teosyal Puresense Deep Lines into the targeted regions using a fine needle.
Side Effects of Teosyal Puresense Deep Lines 2X1ML:
Teosyal Puresense Deep Lines adheres to the highest safety standards to ensure your client's well-being. Although side effects are rare, some mild reactions, such as temporary redness, swelling, or tenderness at the injection sites, may occur. These effects typically subside on their own within a few days. If your client experiences more severe side effects, they should seek immediate medical attention.
Other Uses of Teosyal Puresense Deep Lines 2X1ML:
Beyond its anti-ageing benefits, Teosyal Puresense Deep Lines has found applications in various cosmetic areas. You can enhance your client's facial contours, redefine lip volume, and reduce scars.
| | |
| --- | --- |
| price | Prescription item zero VAT, Stock item VAT payable |